The internet is a wonderful resource for education and your phone is a goldmine of language-learning tools. Powerful and inexpensive software, as well as free online videos and courses, can help you learn a language without leaving your home. Taking an in-person language course is often impractical and expensive, although I recommend you take some one-to-one classes if you can.
Generally, people learn best when they use a variety of methods, so you should complement your courses, online lessons, and real-life experiences with apps and resources that offer different kinds of learning experiences.
With today's technology, it's so easy to improve your accent, meet language partners, and expand your vocabulary, all with apps on your mobile phone. In this article, I will discuss a variety of apps, tools, and resources that can help everyone – from beginners to advanced speakers – improve their Latin American Spanish language skills.
Note: the majority of these tools will also help people learn European Spanish.
Most popular language app for learning Spanish: Duolingo
Most popular app in Europe for over 35 years old: Busuu
Most installed app for over 45+ age group: Babbel
Data from Marketing Charts
Lingopie
LingoPie is one of my favorite resources for practicing my Spanish. But I will say that it's probably more suitable for students with advanced levels of Spanish.
Lingopie is a language learning app that uses real TV shows and movies to help you learn a new language. The goal is to make language learning as easy as watching your favorite television show. The value of Lingopie is in the real TV shows and movies in Spanish, which are accompanied by transcriptions and translations, as well as forward and back buttons and the ability to slow down or speed up the shows.
You can watch the shows without subtitles or with them; you can slow down or speed up the show's pace, and you can skip forward or back through the show.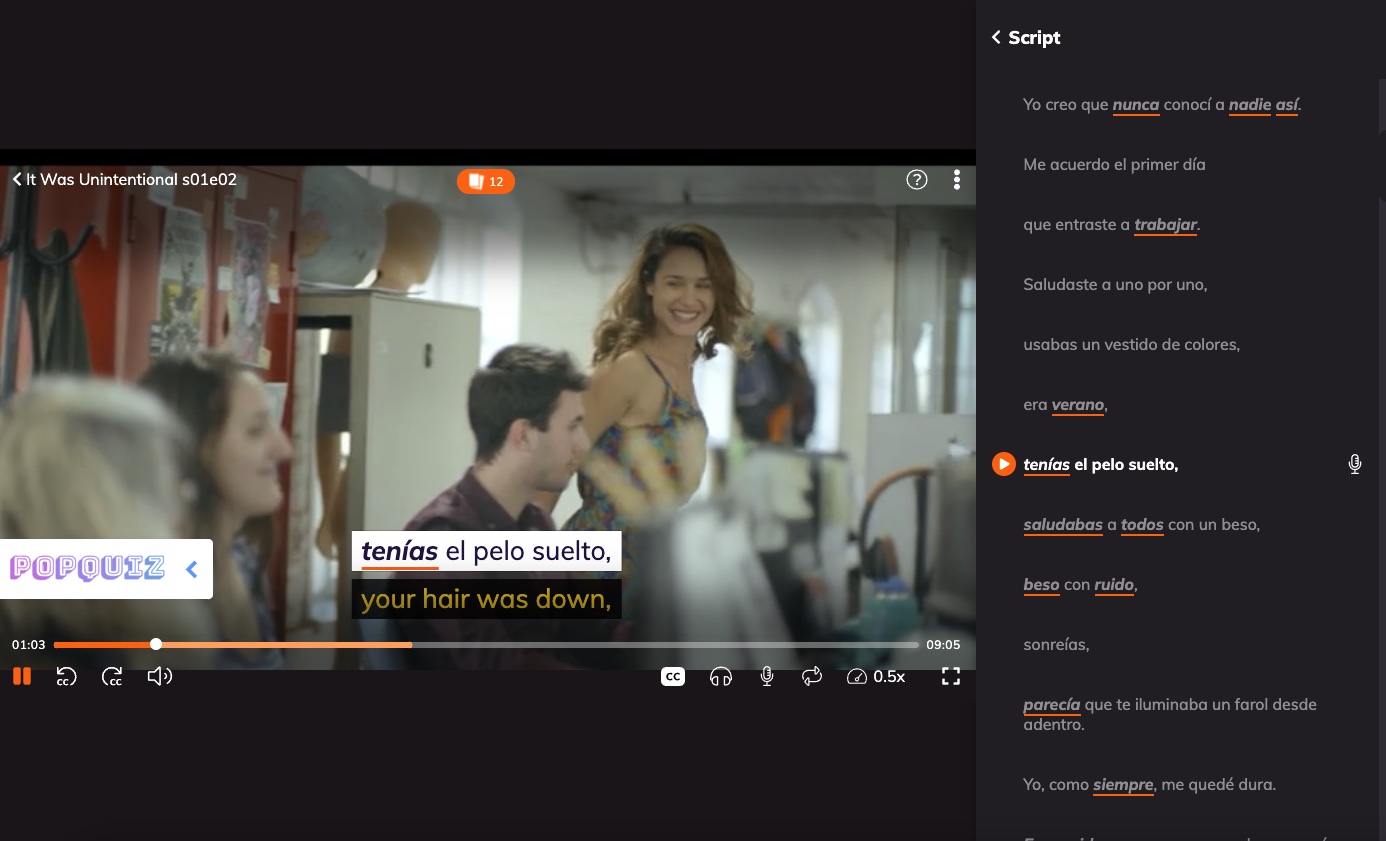 Maybe you want to work on speech patterns, Spanish vocabulary, or Spanish grammar. With Lingopie, you can create your own personal language learning plan by saving sections of shows as flashcards to review later —and all while watching shows that keep you entertained!
One feature I love is the ability to search the entire TV show lexicon for particular Spanish phrases or words and then watch episodes that include them. For example, I might search for "ingeniero" and then get the translation, an audio version by a Spanish speaker, and sections of show episodes that include the word.
There aren't any other Spanish learning websites that use this method of teaching so I recommend you check it out. There are shows from all over Latin America and Spain. And it works great on mobile devices too.
The yearly price is a steal at less than $70 a year. That's a lot of entertainment and education for 12 months.
New features include private Spanish lessons with teachers, and a Kids section, sort of like Netflix's Children's programming.
Unfortunately, you can't download shows for offline use so forget about using the app on a plane or if you're out of Wifi/Mobile cell range.
Check out our detailed review of Lingopie here.
iTalki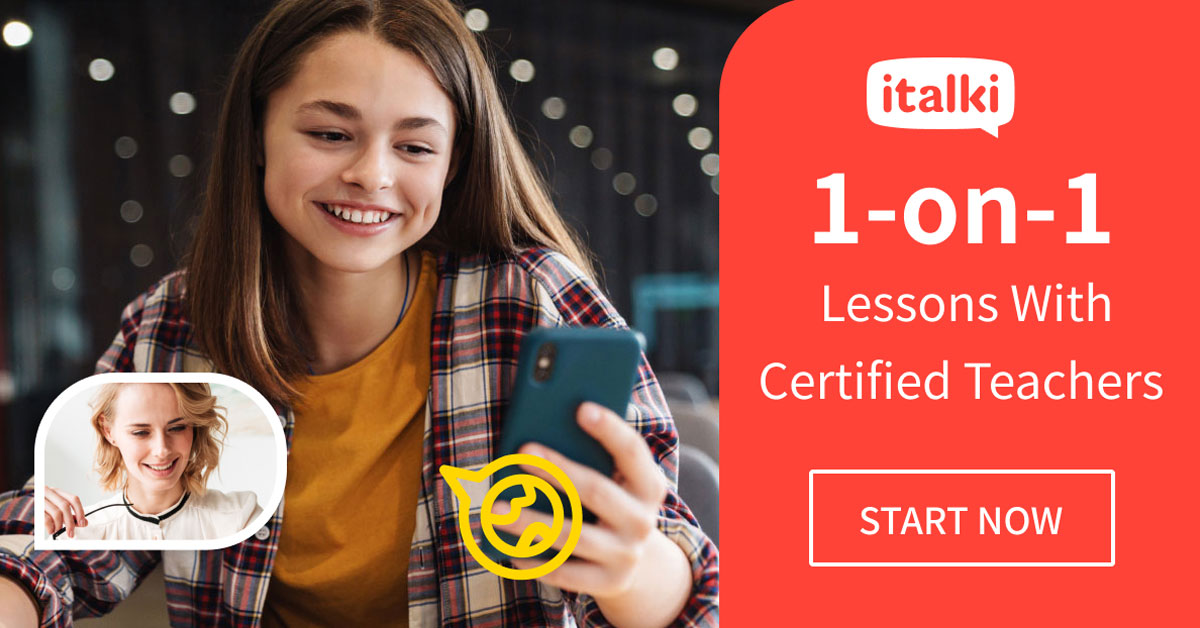 I've been using iTalki for years and it's probably the best way to quickly find and start learning with a native speaker of your chosen Spanish dialect. In my case, I look for Argentine speakers and there are almost 400 private tutors on the platform.
Language learning platform iTalki connects students with native speakers and teachers. Students can communicate directly with teachers through Zoom, Skype, or iTalki's built-in tools. There are teachers available from every Spanish-speaking country and for all levels of Spanish learners.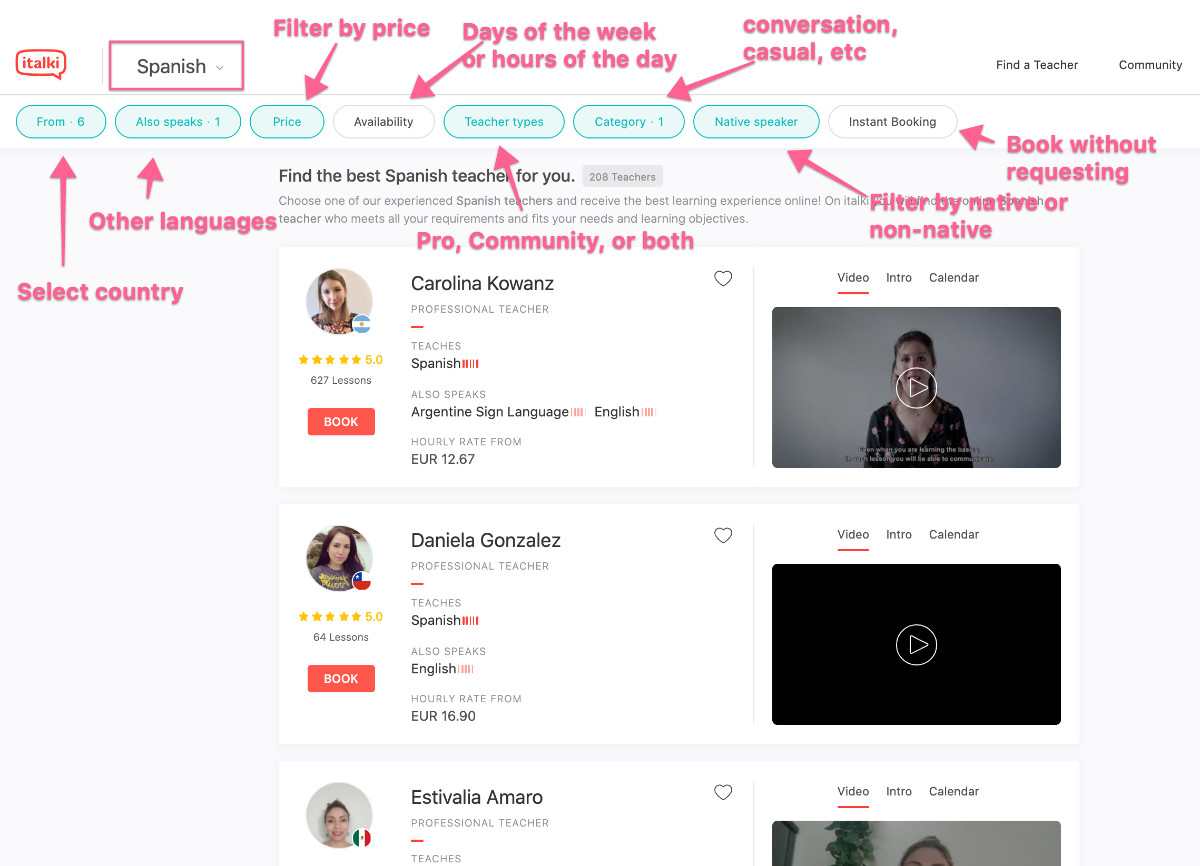 The opportunity to learn with native speakers
A plethora of teachers to choose from
Tutors for every budget
Community tutoring for extra practice
A trusted platform with security
Check out this full iTalki review
Preply
Preply launched several years after iTalki but has already caught up with the older platform. There are an almost equal number of Spanish tutors from Argentina on Preply as there are on iTalki. And by quickly searching for Spanish speakers from Colombia, Venezuela, Mexico, and other countries, it appears that both platforms have an equal share of the tutor pie.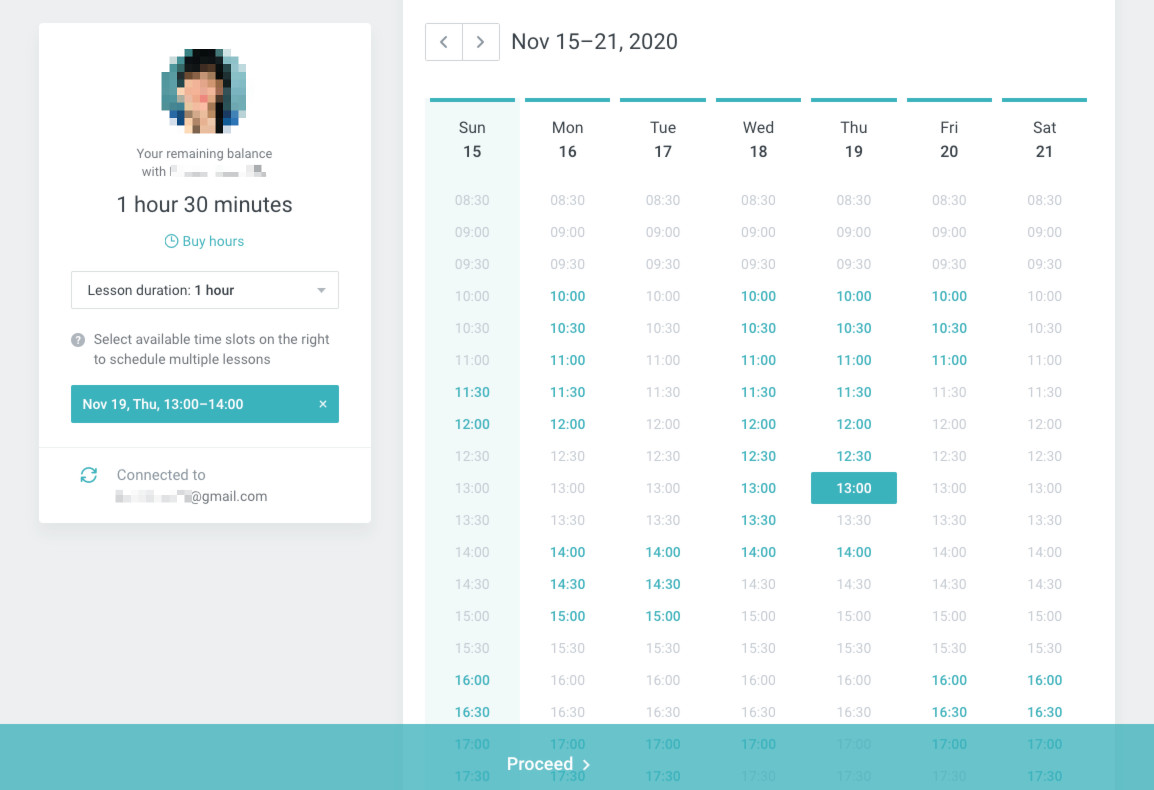 Preply is like an online classroom where skilled teachers teach students one-on-one. But you don't need to be physically in the same room. The power of the internet gives teachers in low-income countries the ability to earn money by teaching students in high-income countries. At the same time, the pool of teachers and students is expanded exponentially so there's more choice in tutors, students, and price. Everyone wins, in theory.
Preply and iTalki are similar so check out this comparison review to help you decide. That said, I recommend trying both platforms before making any decisions. And there's no reason why you can't use both and have a private tutor on each.
If you like italki and Preply but still want to check out the alternatives, try Lingoda, an online language school where you can learn languages with live teachers and practice through homework marked by the system.
Duolingo
It's impossible to talk about language learning resources without mentioning the granddaddy of mobile apps, Duolingo. This 12-year old app has over 200 million users and provides free lessons on grammar, vocabulary, pronunciation, and more. It's probably the best-known language learning app and just seems to grow in popularity every year. There's also an excellent podcast by Duolingo to accompany your language studies.
Duolingo uses speech recognition technology to help you improve your accent. The Spanish courses are short and touch on a variety of topics of interest. Daily challenges help with repetition and knowledge-building. It's fun, free, & always customized to your level
Babbel
Babbel is an easy-to-use browser and mobile app that teaches vocabulary and grammar. No surprises there. But if you're looking for something that breaks from the classic flashcard approach, Babbel might be a good option for you. It's reasonably priced, and it covers a wide variety of languages—including Spanish, of course.
The lessons have been developed in-house by real linguists, which is great—you can tell. The lessons are very well-designed and thorough. They're not just a bunch of vocabulary words on flashcards!
It's easy to get started with Babbel, as the website is well laid-out and user-friendly. You'll have to create an account, which allows you to select your native language and the target language. After this, you'll be asked a series of questions about what you hope to achieve from using this program, which include: improving your vocabulary; practicing grammar; writing emails; working abroad; traveling for pleasure; and speaking with family members who speak another language. Once you've selected your goals, you'll be given the option of choosing a specific course based on these goals (e.g., "Writing Emails," "Working Abroad").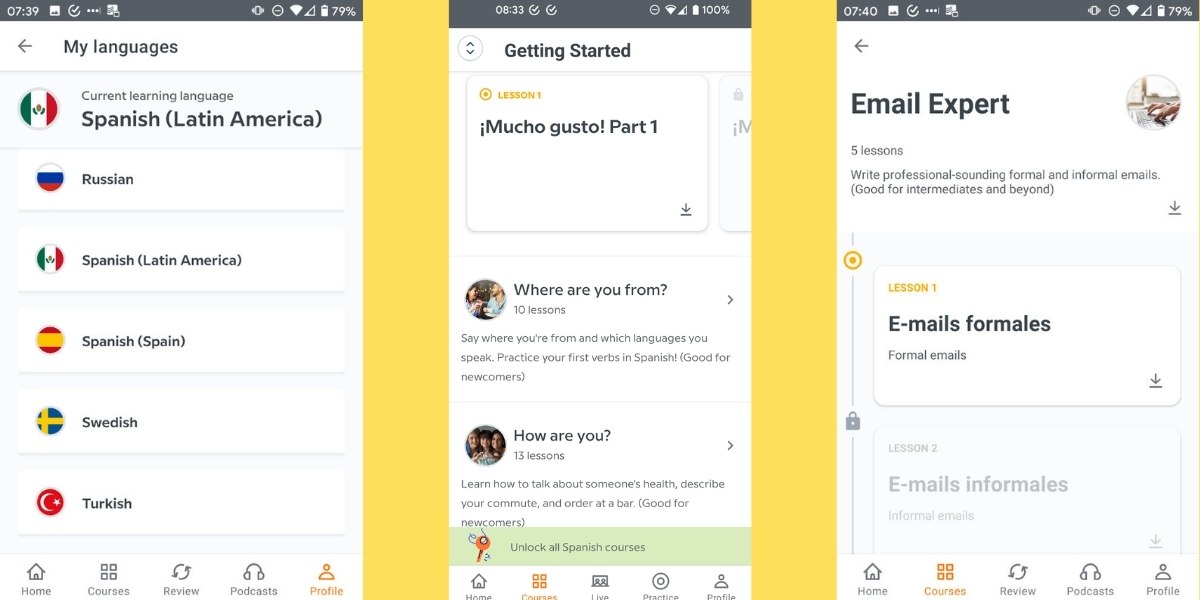 The lessons themselves are written in English and translated into the target language (in this case, Spanish). There are audio recordings of native speakers reading out each paragraph, along with pictures illustrating key concepts or words being taught. The emphasis is on practicality
there are also separate language streams for both European and Latin American Spanish, so readers of this blog will be happy to know they can practice their target accents and dialects.
Mondly
If you've done any kind of research on language learning tools for Spanish, you've probably come across Mondly. It's a very popular app but it's also heavily promoted and there seems to be a permanent campaign of heavy discounts. There's likely one at the moment, which you can check with this link.
That's not to say there's anything wrong with the software. On the contrary, it's a great app and one of the most used Spanish learning apps on my phone.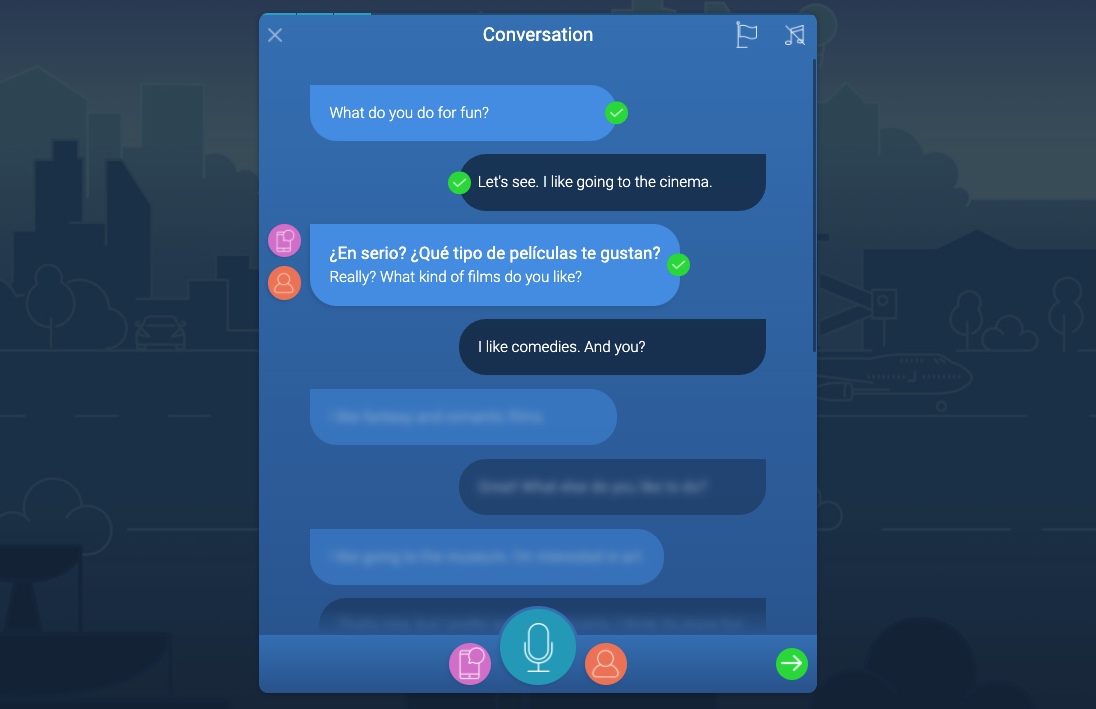 Using speech recognition and augmented reality, Mondly helps you learn like you would in a real classroom. In addition, it offers a comprehensive curriculum in 34 different languages. Over 10 million people have downloaded the app since its launch in 2014.
Chatbots and speech-recognition technology are used to help you learn Spanish faster. The simulation can sometimes resemble a real classroom (a few suspensions of belief are needed). The lessons begin with a simple explanation of the basics, and then it moves on to more advanced language lessons.
Check out this Mondly vs Duolingo comparison and this Mondly vs Babbel comparison.
Mondly regularly offers Lifetime Subscription deals so it's worth checking the website to see if anything is available
Tandem
When I first stumbled across Tandem, I thought it was a new website. It turns out that this useful resource for language learning has been around for over 7 years.
Do you like to talk? Do you enjoy learning new things? What about both? Tandem is all about language exchanges.
As a member of our community, you will be able to arrange language exchanges with Spanish-speaking members from all over the world. You will then be able to contact members of the community and begin your language exchange via text, audio, or video chat. You can ask them about how to pronounce words, what they mean, or anything else related to the language.
Tandem empowers you to learn any language from the comfort of your own home. Connect with someone who speaks the language you want to learn and start talking! It's as simple as pie No, it's actually easier than pie (You have to make pie.)
The company encourages the formation and growth of friendships and has created a way for you to practice your foreign language skills while also making new friends!
While iTalki and Preply also offer the language exchange option, their primary focus is on tutor-student relationships. Tandem takes language exchanges to the virtual next level.
Learn Spanish with Ouino
Ouino offers one of the nicest-looking interfaces of any app or website on this list.
The teaching method is based on a proprietary 5-in-1 Complete Learning System and the aim is to help you to reach fluency
There's a video explanation on the homepage if you want to dive deeper. In fact, there's a video for every module in the learning system.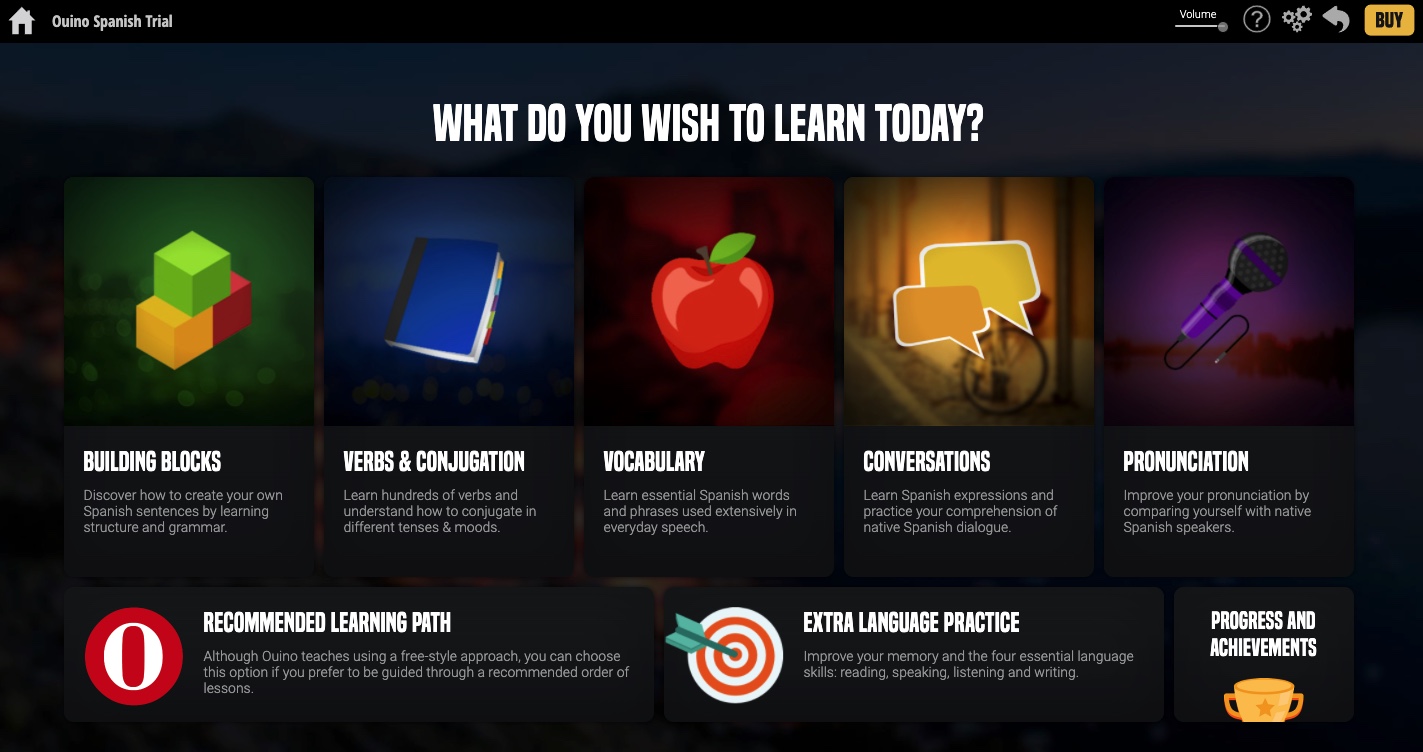 It is marketed as a 'complete' language-learning method that differs from many languages apps, which function as games without explanations of the language.
Rather than just throwing you into reading or listening to content without explaining it first, it develops your knowledge of grammar and vocabulary to help you become fluent.
Your progress with this app will depend once again on your learning style. Do you like to learn grammar and vocabulary slowly, and understand the whys and hows of it? Or are you a gung-ho student who likes to jump in and see what happens? The former will like Ouino. But that doesn't mean the app isn't for the other type. It could be used to complement any of the other learning tools in this review.
Ouino's method is based on comprehension rather than memorization. You can easily monitor your progress, review your knowledge with flashcards, and take tests to ensure that you understand everything you've learned. Review all of your recent activities in one place and see what lessons or sections are new, which ones are complete and which ones still need work.
ReadLang
If you spend most of your time learning on a computer, rather than on mobile devices, then you should take advantage of some of the powerful browser extensions for language learners.
ReadLang is one of my favorite tools for learning a foreign language while reading in my own native language (English) or getting hints in English while reading in another language. Install the extension and select your preferences for language. ReadLang will cleverly change certain words in the text of websites as you click on them. And it works both ways, you can read Spanish texts and click on words to get the English translation.
Once you've built up a vocabulary of words to learn the flashcards part of this cool software lets you improve your vocab through Spanish flashcards.
It's 100% free and works on Chrome, Brave, Microsoft Edge, and Safari.
It now also works on iOS and Android and supports over 60 languages.
Speechling
I found the setup screens for Speechling a little overwhelming and confusing. Beginners might feel intimidated by the immediate prompt to make an audio recording of your voice. While this might prompt you to get started speaking straight away, it could be off-putting for some people.
However, don't be put off. It's an excellent platform to improve your Spanish.

Of course, the homepage of the website says " a nonprofit language-learning platform focused on speaking" so don't expect a flashcard-style system or and reading-only app.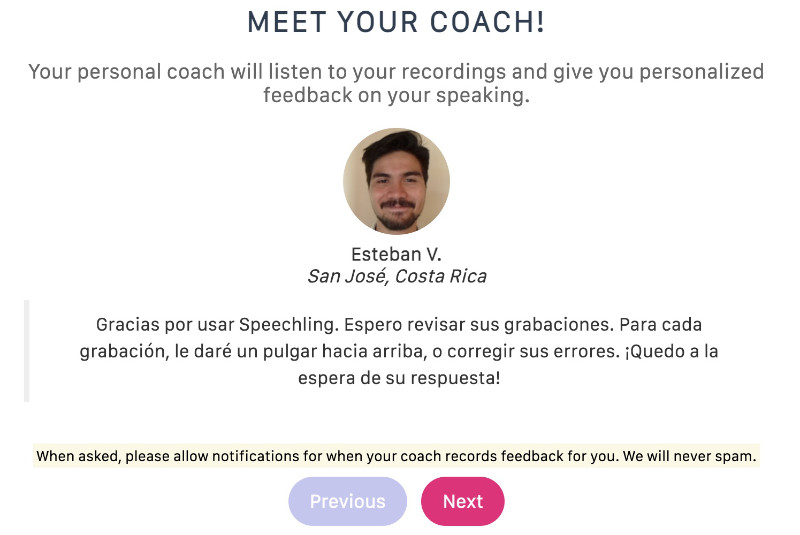 Speechling is all about improving your accent and giving you the confidence to speak Spanish. After all, this is the hardest but most rewarding part of learning a language. And if you can get over this hurdle, you'll learn faster than if you'd relied purely on text-based lessons.
While a lot of functionality is free, there is an option to upgrade so that you can avail of a number of perks, best of all is the unlimited, personal, 1-on-1 coaching on the platform's entire sentence collection.
Try Speechling
Podcasts
Listening to podcasts can help you improve your vocabulary and grammar as well as your listening comprehension. You should try to immerse yourself in Spanish in order to learn it effectively, ideally every day.
While podcasts can't replace Spanish classes or a tutor, they can help you hear real-life Spanish conversations and improve your listening skills for a fraction of the cost. Podcasts let you learn at your own pace and practice whenever and wherever you want.
Whether you're a beginner or an advanced learner, there's a podcast out there for you. Need some inspiration, check out our list of the best podcasts to learn Spanish – Latin-American style.
Latin American Spanish Cafe
Of course, I'd be remiss if I didn't plug our very own 100% free online resource: Latin American Spanish Cafe. The aim of our website is to promote Spanish as spoken in Latin America. It's a completely free resource for anyone to use. We love feedback and are always open to suggestions.
So far we've covered many topics related to Argentinian, Mexican, Peruvian, Colombian, and Venezuelan dialects as well as plenty of grammar topics. Our plans include more content on Chilean, Ecuadorean, Costa Rican versions of Spanish and ultimately cover every kind of Spanish dialect in the Americas.
Which language resource to choose?
Why not choose them all! Of course, many of these tools come with a cost, and it's probably not practical to pay for them all but for most people, especially beginners, the free versions offer a ton of value.
The best tools depend on your learning style.
Beginners might like to take the free courses and tutorials on most of the resources.
Intermediate learners can then purchase a plan on their favorite tools.
More advanced language learners can get stuck into the hours of content available on Lingopie. Or they can use some of the cool Chrome browser extensions that turn Netflix into a language learning platform.
Frequently Asked Questions
What are the advantages of learning Spanish with an app?
There are many advantages of using apps to learn Spanish. the first is cost. App subscriptions are a lot cheaper than language schools and private teachers. Another advantage is flexibility: you can learn on the go and literally practice at any time of the day and anywhere.
Should I learn Latin American Spanish or Spain Spanish?
Latin American Spanish dialects are spoken by hundreds of millions of people in Central and South America, while European Spanish is spoken mainly in Spain by 50 million people. Latin American Spanish is easier to learn than European Spanish.
Can you learn Spanish for free?
Yes, you can learn Spanish for free. There are many resources, tools, and apps that are completely free and will help you get an excellent grasp of the language. Of course, to gain any kind of fluency, you will need to practice in real life. Apps and tools can only go so far.
Do people learn well with flashcards?
Flashcards can be a very effective way of learning vocabulary, tough concepts, and key phrases. They are a great way of self-testing and are an effective way of adding repetition to your learning. Repetition is an extremely important factor in learning a skill like mastering a language.
What's the best free app for learning a language?
The best free app is the one that works best for you. Most Spanish language learning apps have free versions. Try Mondly if you want to get started right away.