Have you ever been so nervous about speaking a new language that your tongue felt tied when talking to other speakers? Have you ever been in the unfortunate situation of having spent months, maybe even years, learning a new language in-depth and practicing that language only to find yourself completely tongue-tied when it's time to actually converse?
In these moments, you feel as if your thoughts are piling up on top of one another in your head—you remember the words but can't bring them together into a coherent sentence. Yep, we've all been there! This is pretty common. Why does this happen? Well, there are a few explanations but a lot of it has to do with the methods we used to learn languages.
The focus of traditional foreign language lessons tends to be on writing and reading skills, not speaking practice, which is fine, but if you aren't able to communicate, your efforts can seem pointless.
I was in this situation, so I looked for a language learning app to help me practice speaking and improve my pronunciation.
I searched online for free language apps and asked for recommendations on social media. Someone recommended the Speechling app, which I've been exploring. Now that I know how it works, I want to share my experience with you in this review.
While this is a review for our site, which deals with Latin American Spanish, know that Speechling offers many spoken languages in the app. These include: English (US and UK), French, Spanish (Latin America and Spain), Korean, Japanese, Chinese (Simplified and Traditional), German, Italian, Portuguese, and Russian.
Getting started with Speechling
The first time you log in, you need to create an account, and during the process, you will select your target language (the one you need to learn or improve) and meet your language coach. Your coach will listen to your audio recordings and offer suggestions to help you pronounce Spanish words and phrases correctly so that you can sound like a native speaker.
I'll admit that the next step kind of caught me by surprise. It asked me to record a short greeting to send to my coach. It was like being called to the front of the class on day one to introduce yourself. But it's all for a good eeason.
Then, in the next window, called "FROM ZERO TO FLUENT," you choose where you stand and what you want to practice. There are five categories:
Beginners should start by practicing words in the first category
A tad more advanced is the next category, which focuses on practicing sentences.
After that, there's a level for intermediate to advanced learners to practice conversations and descriptions.
For travelers, the next category gives you the chance to practice relevant questions to sound like a native speaker.
Listening skills, pronunciation skills, and speaking skills are assessed in the last section.
In order to fully test the Speechling platform, I decided to go all in by starting as a complete beginner. I chose the first level.
Right away, I noticed that the translations can be chosen in a language of your choice. I found this to be very helpful. Additionally, you can choose whether you want to listen to male or female speakers. I chose one of the female voices so I could mimic her speaking voice when I practice pronunciation.
So far so good. Here's a quick tour of what you'll find in this Speechling app now. Let's call this section of this Speechling review "The Options":
Toolbox
Within this tab, you can select different exercises, from flashcards, dictation, speaking and listening practice, and quizzes. The dashboard summarizes your set up, what language you're learning, what module you're working on, and your progress.
You can change these settings to suit your learning style and preferences if you wish. Overall, the dashboard is user-friendly and easy to understand. I even find the user interface over-simplistic, but this is a minor point.
Skill Tree
There is something like a library here. There is a phrasebook section with useful expressions for life and travel; Foundations, to learn vocabulary; Core Curriculum, to practice vocabulary in context; and Conversations, to practice this skill in context.
Audio Journal
This section keeps track of your interactions with your coach, including back-and-forth messages and feedback on your pronunciation.
Note that the Settings option is also a tab on the top bar, with the same options to set up your preferences as the ones under the Toolbox.
Pricing
Speechling's basic service is free; the company is nonprofit. With a free account, you can learn vocabulary, word choice and proper pronunciation, audio lessons, and questions.
There is, however, a limit to how many coaching sessions you can receive. You get up to 35 coaching sessions per month. It means that language learners can submit responses to their coach for evaluation. Through the audio journal section, the coach listens to your pronunciation and sends you feedback.
There is also Speechling Unlimited. The plan costs $19.99 per month, which is less expensive than having a tutor and, sometimes, than paying for lessons. It offers unlimited coaching sessions, the audio journal saves your progress forever, you can switch between languages, and access to some offline premium lanuage learning resources too.
Premium users can arrange one-on-one tutoring sessions. This will cost you $45.00 per hour. Thankfully, an online private tutor is also available, and it only costs $15.00 per hour.
For the Speechling Unlimited version, there are three types of payment plans available. There is Monthly for $29.99; every 3 months for $23.99 a month ($71.97 payment every quarter); and yearly unlimited plan, where you get the $19.99 a month fee ($239.88 total cost).
You can pay with a credit card, Paypal, or Alipay.
The Spanish Blog
It is interesting to note that they have blogs in every native language they support. However, when I checked the Spanish blog, I was a little disappointed to find that all the posts discussed the grammar rules of the Spanish language and the process of learning Spanish. What's wrong with that, you may ask? As there was a blog for each of the popular language, I expected we would find articles written in that language, so we could read and practice at the same time.
Nevertheless, the content was very interesting. And there are many, many posts to read.
Free Language Learning Tools
Speechling's free plan includes a number of additional tools for learning foreign languages. The free versionis listed as "forever free," and they don't even require a login, so you can access these without even having an account with them.
These tools are within a section called "Free Language Learning Tools," and there are six different modules to help improve your language skills.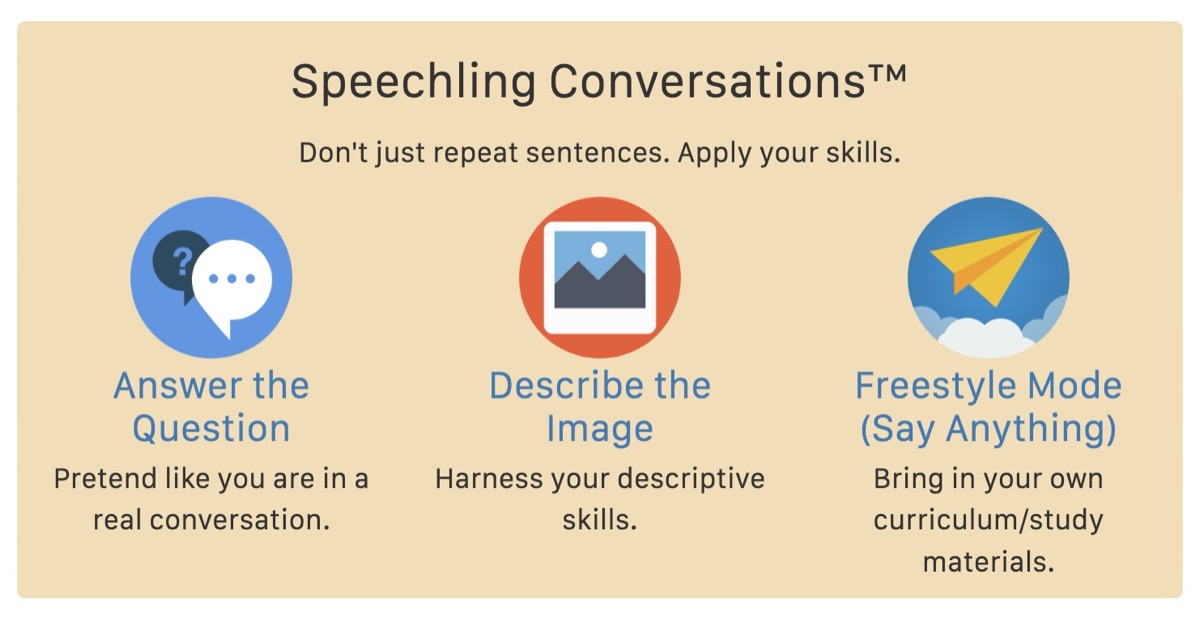 Start with a Free Listening Comprehension Practice. You get to choose your language and level and then go over thousands of sentences to listen to and repeat, recording your own voice. Particularly interesting is that they offer both Latin American and Spanish dialects.
Then there is a dictation feature where you hear a voice recording and have to type it into the application. There is a button to check the answer and to mark it for review if you didn't get it right. You can always review everything later.
There are also a couple of game modules. There is a Fill in the Blank task (similar to Hang Man where you type in the letters to a missing word) and Vocabulary Flashcards in target languages.
In conclusion, the last two modules are for the Free Language Quiz, a multiple-choice quiz where you test your translation skills from thousands of basic expression. In the Free Audio Dictionary, you select the language, choose the category, and a list of verbs, adjectives, nouns, question words, basic phrases, etc., appears.
Social Media Perks
You can link your Speechling account to your social media accounts, and they'll send you updates on new articles and features when they're added to the application. The options available are Facebook, LinkedIn, Twitter, and Pinterest.
When you share a link to Speechling on social media and someone clicks your link, you'll be rewarded with more coaching. It's a kind of affiliate arrangement that simple to implement. We mentioned you get 35 free coaching's a month, so you'll get 1 more every month if you get people to click on your links.
The Speechling Mission and Method
The Speechling team wants to provide people around the world with access to high-quality free language education. The company is nonprofit, and they only charge if you need more personalized support. Moreover, they employ coaches from different countries as well.
The Speechling Method is billed as a "combination of technology and human coaching." The primary focus is on speaking to help learners overcome language barriers.
The goal is to "provide more opportunities for education, employment, and a better quality of life". A noble cause indeed.
Speechling Pros and Cons
Pros
Available 24/7, so you don't need to adjust to a learning schedule; you can fit your lessons to your daily agenda.
The service is free. In light of how expensive lessons and tutoring can be, this is great news.
Listening to actual human voices and conversations allows you to practice comprehension and repetition.
You get personalized feedback from real native speakers. Your Speechling coach is a real person that listens to your answers and gives you real feedback to improve pronunciation.
Cons
The interface looks like a children's game from the early 2000s. I admit that it is very self-explanatory, but it looks so dated.
The speed control option is not easily identified. I was very curious and started playing with all the buttons, but not everyone will find it as it is not labeled. It's next to the little turtle under the play button on the speaking module.
You don't really get to practice conversations. It is mostly prerecorded sentences, and you get feedback, but you never actually talk to another human being in real time directly in the application.
In my opinion, Speechling isn't suitable for complete beginners, there isn't a foundation module or grammar explanations to build on.