Looking to enhance your language skills in a comfortable and friendly environment? By comfortable, I mean in your own home. By friendly, I mean on a website where only qualified and vetted teachers can work. If that's your thing and you've done your research, both italki and Preply have probably crossed your radar. From extensive testing, I've found that both platforms deliver a seamless experience to help you learn a new language. These education providers have passionate teachers who are either native speakers or hold reliable experience in tutoring.
Here's a detailed rundown on the pros and cons of Preply when compared to italki. We cover the key features, advantages, disadvantages, tutoring processes, help and support resources, and much more. You want to know which is best, right? Well, maybe this will help you decide where to learn a language or improve your skills.
Key Features: Preply
Preply offers a variety of features to facilitate a smooth learning process. Connect with a professional tutor for 1-on-1, tailored individual lessons. Teachers on the website are experienced, native speakers and many speak English fluently. The fact that you can choose from the qualifications, price, and location of the tutor gives a truly personalized approach. Filter by cost, availability, and language to find someone who satisfies your needs. View video introductions, browse through reviews from the teacher's peer groups, and send messages to tutors before booking a trial lesson.
Preply's flexibility is a positive feature. No matter what time zone you are in, a professional teacher will be available 24/7. Language learners enjoy convenient, comfortable online lessons from anywhere. They can join on any device and connect with the teacher via audio call or video call from desktop or mobile. Of course, italki offers the same thing so this is not a unique feature.
Key Features: italki
The key features of italki stack up well with Preply. All students receive structured and personalized learning to gain the language skills they hope to achieve. Users can schedule lessons through the online platform at their convenience. And much like Preply, italki users can connect with a tutor via Skype or phone.
italki's overall experience is seamless because of the cloud-driven website, Android, and iOS applications. You can browse tutors, and read about the teaching certificates that each holds. Once the learner and teacher connect through a phone call or video intro, they can begin to master and learn any language with flying colors.
italki's pricing structure is also easy to follow and friendly toward budgets. You pay by the lesson, and there are no fixed or hidden charges. italki does not provide any trial lessons, it does deliver a discount for the first lesson as low as $1 for a half-hour video.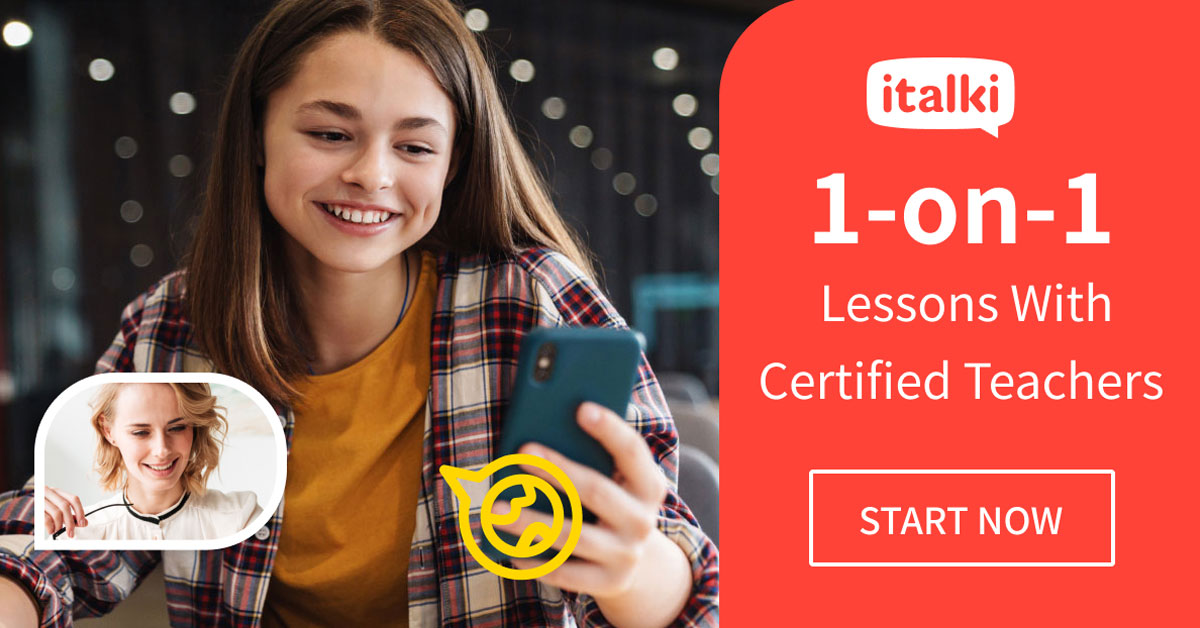 Advantages: Preply
One of Preply's advantages is "Preply Space," which is comparable to Skype but operates differently. Students can jump on the online platform and read through the vocabulary that the teacher prepared. It also creates a transparent exchange between teacher and student because each party can share materials and documents.
Lesson packages and class prices are also very cheap with Preply. Some professional tutors only charge about $3 per hour, which is a great deal for younger students on a budget. On the other hand, italki prices begin at $4 per hour. As the quality and the experience of the teacher increases, so will the cost.
Preply also enables students to adjust their price range, set their teacher preferences, and provide an availability schedule. This advantage allows the student to submit a request with the requirements, and the ideal tutor will search and connect with the student.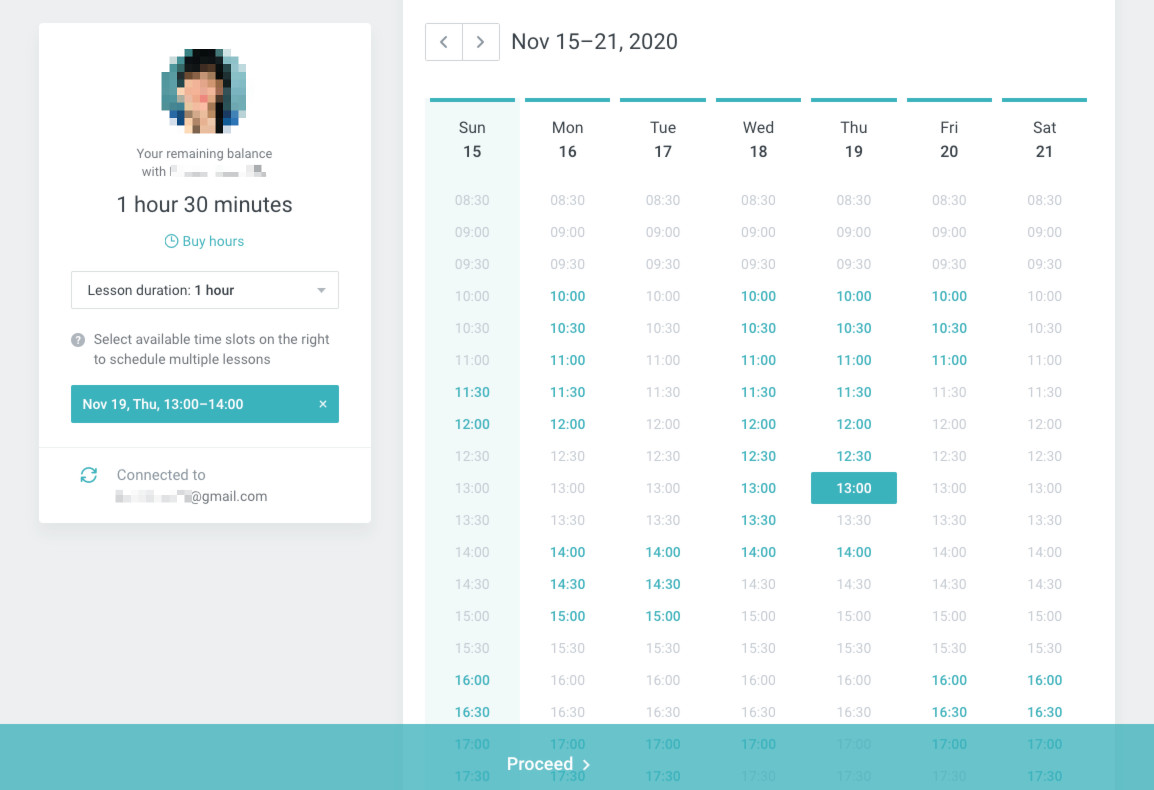 Advantages: italki
italki provides various complementary features for its users. There is a notebook section that allows students to write and work on homework within the online platform. Students also have access to an italki language exchange to connect with language partners and practice their skills for free.
Trial lessons are another critical advantage to italki. The teaching platform enables students to reserve up to three half-hour trial classes. If you are a student who is trying to determine the optimal learning and teaching experience, this is a beneficial option.
Disadvantages: Preply
Preply requires teachers to pay a higher commission than italki, which could impact the selection and quality of tutors that students receive. Many quality teachers will not accept this higher rate when they can make more on italki. Therefore, Preply's disadvantage here is the overall quality of the teacher pool.
Disadvantages: italki
A small disadvantage of italki is the processing fee for users. When you book a session on the platform, you must pay a 4% fee to the various payment companies like Mastercard, Visa, Paypal, and others. This same fee on Preply is only $0.30 each time you purchase class hours.
The italki classroom is another downside of italki. Many teachers dismiss the teaching platform's "classroom" because, well, there are few benefits over using Skype, which many people online are used to using. There are also many reported connection and technical issues for both students and teachers.
Alternatives
Lingoda
Lingoda is an online language school where you can learn languages with live teachers and practice through homework marked by the system. Lingoda offers two pricing models: Monthly subscription and Marathon courses. So you can't buy individual classes. But if you want a platform where lessons are amazingly interactive and the teacher is pre-screened, then Lingoda might be the better option for your needs.
Verbling: Worth Mentioning
Although we are comparing Preply vs italki, Verbling is another language tutoring service worth mentioning here. Verbling is not as good as italki or Preply in my opinion. Although the site offers fewer teachers and is slightly more expensive, it is still a viable option if the other two don't work for you. Students will not need to invest any money in a lesson package, which is an advantage for them. Users can also purchase credits in advance, and Verbling accepts almost all forms of payment, including Bitcoin.
Babbel Live
Babbel, the popular language learning app, has just moved into the direct teacher-to-student language learning space. And it's looking very promising. At the moment, you can find teachers in Mexican Spanish.
Check out Babel Live to see how it works.
Preply for Spanish-speaking Learners
Preply offers over 830 tutors for the Spanish languages. Most of the teachers are native speakers and provide lessons for anywhere between $1 and $40 per hour. It's worth noting that instructors' accents (and conventions in language learning platforms) vary based on the country that the Spanish speaker is from.
Consider the differences among the options and choose a teacher with the right accent and background to support your specific learning goals. Common dialects include:
Chilean Spanish
Cuban Spanish
European Spanish
Latin American Spanish
Students can take personalized classes for business and SAT Spanish too. There are even offerings for Spanish learners with dyslexia, ADHD, and Asperger's Syndrome.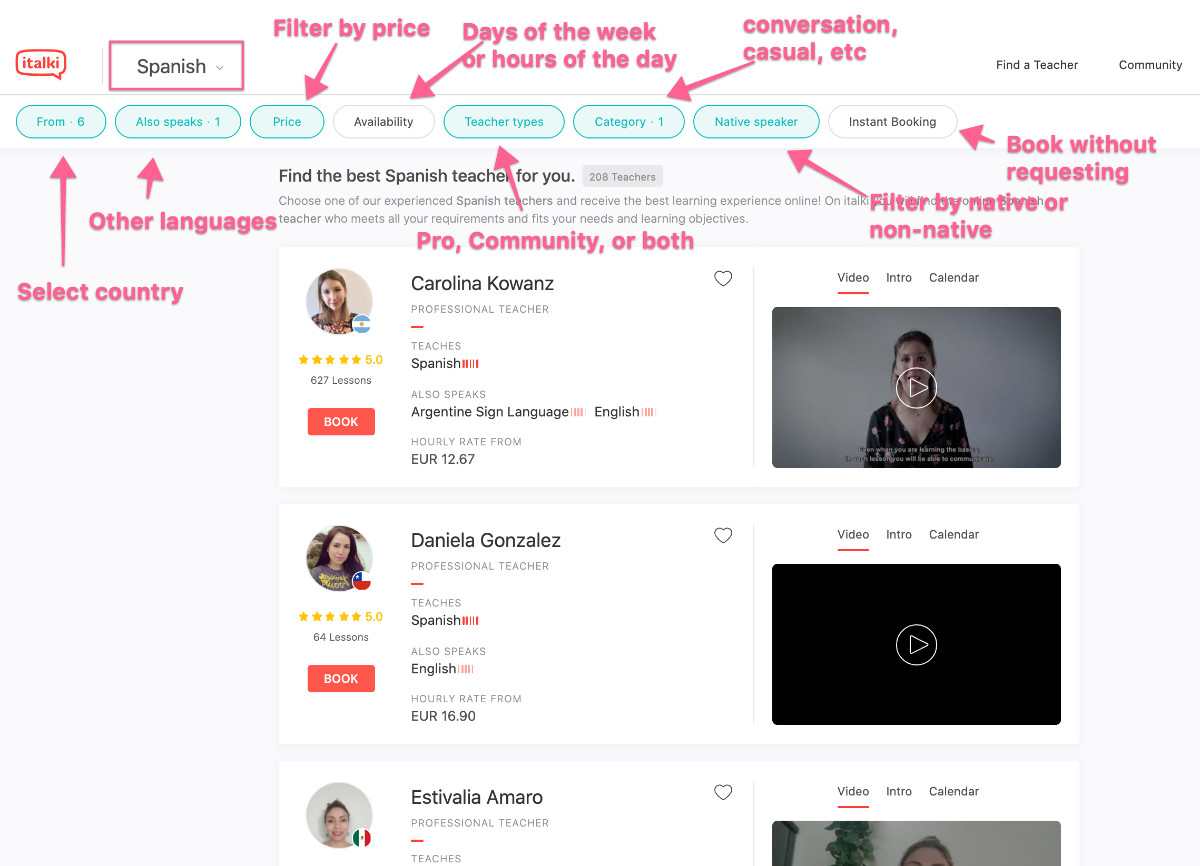 italki for Spanish-speaking Learners
With over 1700 to choose from, italki delivers a larger pool of Spanish tutors than Preply. The cost of an hourly lesson ranges from $4 to $80. You can choose between professional teachers and community tutors, or mix it up and learn from both. The accents for italki Spanish tutors include Venezuelan, Mexican, Colombian, Argentinian, Peruvian, and Chilean.
Help & Support: Preply
Preply's help center contains general help for users, information about rules and guidelines, and steps to strengthen your profile. Students also have access to an extensive library of learning materials, which provides insightful materials for their education. Preply offers helpful articles to students on how to find a quality tutor through the learning platform.
Help & Support: italki
italki has a dedicated support site for students, tutors, and the community. Under each section, there are frequently asked questions and help articles to address them. The student section provides FAQs for profile and account settings, payments and credits, packages and lessons, and the overall learning process. You can also check out the latest announcements from the teaching platform.
The italki support website also has a 24/7 live chat option that addresses any issues or questions. You can also submit a ticket to the support team who will reply in due course.
What Can You Expect from a Preply Lesson?
The first lesson with Preply will always be for one hour. You cannot divide the trial lesson into two or more segments. Lessons take place on Skype but there's also a tool called "classroom" where lessons and video calls can take place. Tutors assemble the essential materials for the lesson and send a message if you need to prepare anything.
What Can You Expect from an italki Lesson?
italki lessons typically happen via 1-on-1 video chat at a specified time in your schedule. You can usually find a tutor available 24/7. Take a lesson whenever you want as long as it is scheduled ahead of time. The lessons themselves are unique and depend on the teacher and topics in question. Try out various teachers to discover your learning style and the tutor's teaching style.
The overall format of the lessons is consistent across the board, however. If it is the very first lesson, the teacher will usually add the student on Skype a couple of minutes ahead of the class. Some teachers are more lenient toward mistakes, while others will correct everything. To properly prepare for the lesson, you should bring reading and writing materials, a textbook, or any relevant supplies.
How Does Preply Work?
Preply provides a simple and straightforward process for students to register. First, they locate the best tutor by choosing from over 12,000 online teaching professionals. Users can utilize filters to find the ideal fit and narrow the search. As the tutor profiles come up, students can book a trial lesson or send a message to the teacher.
Then, students can schedule the right time by booking a lesson quickly via mobile or desktop. When it is time for the class, the student will connect with the tutor through an introduction video chat platform. As students navigate their educational journey, they can track their learning progress and enhance their vocabulary and speaking through the learning plans.
How Does italki Work?
italki enables students to choose between two types of teachers: community tutors and professional teachers. The experienced teachers charge a higher rate and are verified by italki. Community teachers are typically native speakers or are masters of their language.
As you browse through the tutor profiles, you can investigate other students' reviews or look at teacher intro videos. You then book your lesson at a date and time that best suits your schedule. After you meet your teacher via the video software, your journey begins.
How Do You Find Good Teachers Online?
It is important to note that every tutor is different and delivers his or her own teaching style. As you begin your learning journey through Preply or italki, you should try out other teachers to understand your optimal experience.
But as you browse through the different teachers on the platform, there are a few things you can watch for. The first thing is teaching experience – is the teacher a native speaker, or community tutor? How many years of experience do they have?
It would help if you also prioritized the teachers who are verified through the platform. It is also essential to look at the other reviews and the tutor's average response time to get a good idea about his or her services.
Does Preply Provide Lesson Plans?
Preply delivers a robust system for online lessons. But unlike many platforms, it does not give a curriculum or detailed lesson plans. It is the teacher's responsibility to organize and plan the lessons based on their individual needs and interests.
Does italki Provide Lesson Plans?
Much like Preply, italki does not provide plans. It is up to the teacher and his or her preparedness to deliver a quality lesson. The teaching platform does provide helpful resources and information sharing among the teachers for best practices with lesson planning, however.
Final Thoughts
Both tools essentially offer the same solution: Connecting language teachers with language learners online. But there are many crucial differences between the two. The overall experience will depend mostly on your teacher, and if you search hard enough, you will find someone who complements your learning style.
If we were to select our favorite, we would recommend italki. The company provides lower rates, more learning tools, and a more comprehensive selection of tutors. When you look at the trial class policies, italki is also more friendly to its teachers, which keeps the best tutors around. And that's good for you as a student.