There are many ways to learn a language. Total immersion, language schools, online tutoring, and self-study. But one of the most enjoyable and almost passive ways of learning a language is to use a Chrome browser extension (or two) that helps you learn while you work, read articles, and watch movies.
These mostly free plugins for your web browser make it a lot easier to stay sharp and use a new language on a daily basis. Let's look at some of the best browser extensions for language learning.
I've chosen extensions that are either Spanish-focused or at least have an option to learn Spanish.
I have a love-hate relationship with Chrome browser extensions. On the one hand, they slow down my web browsing experience. On the other hand, they can offer incredibly good experiences that you just can't get with the vanilla browser installation. Chrome was designed to allow extensibility, so why not take advantage of the many language-focused browser add-ons that are freely available.
I use Edge browser (the one from Microsoft) because it's less resource-hungry and is built on the Chromium engine that Chrome was built on. And by using Edge, you're probably got fewer businesses spying on your while you browse websites.
Language Reactor
Language Reactor is an extension that offers unique opportunities to practice listening comprehension. Subtitles are shown in two languages when you watch Netflix, allowing you to compare the original audio and text to what you see in your language. At all times, it is easy to see what is being said.
Change the speed of playback and watch them again. A pop-up dictionary is a quick and convenient way to look up difficult-to-understand words.
With Netflix being one of the most popular websites on the internet and so many people these days wanting to learn a language, it's not hard to see why this extension has over 1 Million users.
And while this extension is best known for Netflix, it also supports YouTube.
While watching a Netflix show you can click the extension icon and it will open the same show in a special Language Reactor window with all the controls you need to customize your language immersion experience: English translations, English subtitles, Target language subtitles, etc
If you prefer to learn languages through movies and documentaries, this powerhouse Chrome extension might be your most used tool in your language toolkit.
You can find a few other tools in the same category in the Chrome Extension Store. For example
But with over 1 million downloads and almost 3000 (mostly) positive reviews, Language Reactor offers the most reliable extension.
GlotDojo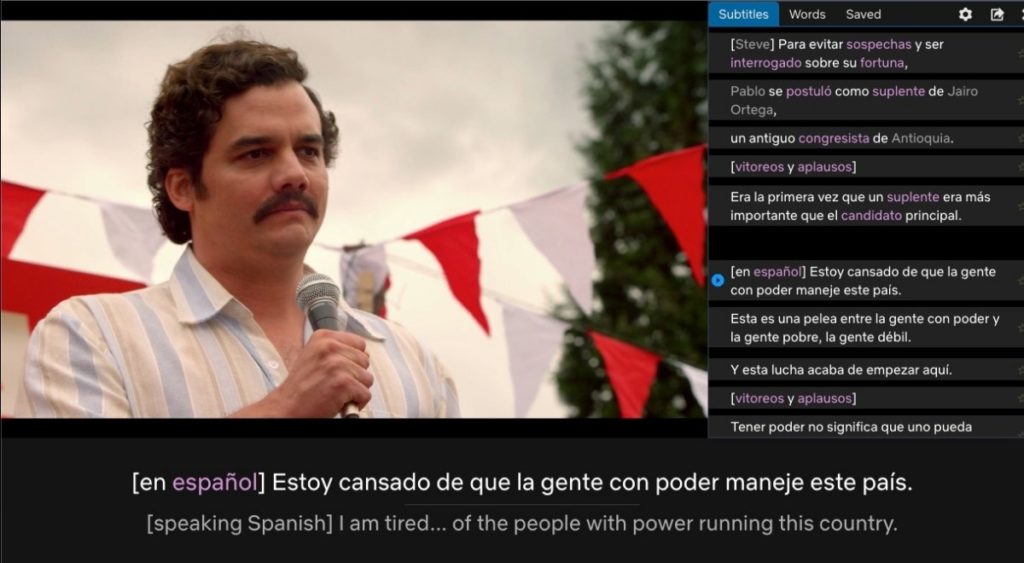 GlotDojo offers some of the functionality of the previous extension but takes a simpler approach. In addition to the Netflix subtitles, it offers subtitles in the original language.
Netflix lets you watch movies with one subtitle track. You get another one with this plugin. Let's say you're learning Spanish (like most readers of this blog) and you have English subs on screen. This plugin will display the original Spanish above the English translation. This is a great way to compare and learn entire phrases.
One issue I have is the single-word translations offered when you hover over a subtitle in the original language. They are often completely wrong or out of context. This might be confusing for some learners, so I recommend sticking with reading the subtitles in-context with the original language version. It will be much better for improving language skills to ignore the individual word translations.
ReadLang
By using this vocabulary builder extension, you can specify which words to translate from a foreign language text page. Wouldn't it be better to translate everything? Let's say you have some comprehension, but you're not proficient enough to understand every word.
You can use ReadLang to get quick translations of difficult words and then add these words to the "dictionary". Later, you can improve your knowledge of these words with the built-in flashcard app. Features:
Translate individual words on the page to your native language in real-time
Add new words directly into the dictionary
Use the built-in flashcards application to learn more about each word
Save all translation results as text files so that they are easily accessible later
Export all the language data in your flashcards and public texts to CSV format
The extension is available for desktop, mobile, and tablet devices. ReadLang is a great resource for language learners that's 100% free to use.
LingQ
Want to make your own Spanish learning material?
LingQ Importer Chrome extension makes it easy to import text from any web page to LingQ for studying. Simply click the extension icon in your browser toolbar, click the button with the import icon, and your text will be imported into LingQ in seconds.
Once you've gotten your materials, you can study them using LingQ's web and mobile tools.
Fluent
Fluent works a bit like ReadLang. This language immersion tool automatically translates words and phrases when you visit a website into the language you are learning. Fluent lets you hover your mouse over translations to reveal their meaning in real time, so you won't need to access a dictionary to find out what each word or phrase means. It's never been easier to pick up new words.
LanguageTool
This Chrome extension is your secret weapon for writing effective Spanish and for learning more about the language as you go. LanguageTool not only provides an easy interface for working on your writing, but it also provides detailed explanations of any errors it finds – because grammar rules are useless if you don't understand why they exist.
In a nutshell, it's like having a personal tutor tucked inside your browser who can answer all of your grammar questions whenever they arise—because we know how difficult it can be to ignore those questions!
LanguageTool's cool features include
Personal dictionary – Include words related to your profession or area of interest so that they are not flagged as errors.
Text quality scoring – See how well your text is written in real-time with a quality score ranging from 0 to 100 percent.
And, if you want more advanced style and typography suggestions, enable Picky Mode to get even more learning opportunities.
This open-source grammar and spell checker won't teach you a language directly but it will help you fix grammatical errors and make suggestions based on your sentence structure. In effect, it will help improve your written communication skills. And after all, language is about communication.
LanguageTool works with Spanish, English, German, French, and Portuguese.
Another free tool with a Premium level plan. Most users will not need to upgrade. It works as a Chrome extension and as a web-based grammar and spelling checker.
Reverso
This plugin from the website Reverso Context is simple to use. Simply choose a section of text on any webpage
When learning a new language, it can feel as if the only way to learn is to devote every moment of your life to it…You know what I mean. Watching foreign films. Poring over grammar explanations. Practicing with an app that has you repeat the same phrases over and over again until you beg it to just stop.
But what if you could integrate your language learning into your everyday life?
Reverso is a Chrome extension for language learning that provides instant translation of selected text, subtitle translation on popular video streaming sites, and advanced features such as pronunciation and history. You can easily learn a new language with Reverso while browsing the web or watching your favorite shows.
Select any text on any webpage and watch the magic happen: accurate translations illustrated by real-world examples, so you get the most context for what you're learning. It's free, simple to use, and always available when you need it.
The pros of using Reverso include the ability to learn new languages by translating words and phrases on web pages, the inclusion of a dictionary, flashcards, and a grammar checker, and the fact that it is free to use. You can also save pages and create reading lists to build libraries of content to work on later.
The disadvantages of using Reverso include the fact that it is only available in Google Chrome, that it does not support all languages, and that there is no mobile app.
If you like these tools for learning Spanish, check out this list of resources for further study!