Are you looking for a creative way to improve your Spanish? You don't have to read endless lists of conjugation tables and repeat phrases in flashcard language apps to become fluent in a language. How would you like to watch cool and interesting TV shows or telenovelas in Spanish while practicing your language skills and having fun at the same time?
Lingopie is a language learning app that makes improving your linguistic skills fun and easy. Why is the Lingopie app different from all of the other language learning apps? Well, for a start, it's as easy as watching TV shows or movies in your target language. You can learn new vocabulary, practice pronunciation, and improve your listening comprehension, while being entertained (hopefully) at the same time
By the way, despite the title of this article, Lingopie isn't just about TV shows. It offers a wide range of content formats. More on that later.
As it happens, I have found this language learning platform to be very enjoyable and interesting. What does it actually do? How useful is it for someone who wants to learn a foreign language? What can language learners study with Lingopie? Let me tell you about my experience. Here is my honest Lingopie review.
Getting started with Lingopie
Lingopie, like many other online language learning apps, is accessible via a desktop computer or any mobile device (tablet or phone) running iOS or Android. It is a paid app with annual and monthly subscription options, as well as a 7-day free trial to help you decide if Lingopie's approach to learning is right for you.
Note that Lingopie isn't like a regular Spanish class and that you must have some basic understanding of the language you're aiming for. We will go into more detail later on. Nevertheless, the free trial option is important, especially when spending money on long-term language resources.
The first step, when creating an account, is to select the type of membership you want. Note that even if you opt for the free trial, you'll have to add your payment information. After that, you'll be asked to select the language you'd like the app's user interface to use (your native language), as well as the language you'd like to practice.
Besides Spanish, other available languages include the top European languages like German, French, Italian, and Portuguese, as well as Asian languages like Japanese and Korean. Once you've signed up, you can change those options at any time so you can actually practice more languages. So your subscription includes every language in the system and not just a single language.
Select your level of proficiency in your language of choice so that the system can recommend shows. The different categories are beginner, intermediate, and advanced learners. Category choices determine the type of content you will see and the playback speed. Beginners will hear the dialogs at a slower pace so that they can follow the dialogs and learn new vocabulary quickly.
Learning from authentic native content
You can choose the type of content you would like to watch once you've logged in. Lingopie's extensive library includes TV shows, travel shows, sitcoms, comedies, mystery shows, documentaries, as well as soap operas, a popular way to learn Spanish.
There are some great Spanish TV shows for beginners, funny Spanish sitcoms for intermediate level learners, and plenty of advanced level content too. Lingopie's shows list is front-and-center in the home screen. Either click Catalog on the left-hand-side menu or navigate via the Recommended For You, Viewer's Choice, Top 10, My List, and other handy categorizations.
I was pleasantly surprised by the variety of content, even podcasts, and audiobooks, and they were all of high quality. In the top right corner, you'll find a search bar where you can search by title, genre, and even dialect. I am a big fan of cooking, so I started watching a cooking show where I learned some vocabulary, recipes, and tips. How cool is that?
You can click on the words that may be new to you while you watch your selected shows. View the native interactive subtitles on the screen or read the script on the side. When you click a word, it goes to your study cards. Watch the entire chapter as many times as you need or rewind whenever you want.
Lingopie gives you more ways to learn than just watching the shows. When you click on a word to check its meaning, it goes into a set of flashcards that you can use to review new words. When you add more than two words, games like Word Master and Pop Quiz become available. These will help you learn new words in a fun way and help you remember them. The words are then put into a word bank called "Words list," where they are kept along with their English translations and how to say them.
With each new word you click and review later on, you will gain a deeper understanding of the new language and learn new vocabulary. By the third episode, you have a better idea of the flow of the conversation and can understand more.
A note about the playback speed options:
When you select the beginner speed (the slowest, 0.5x) or novice (0.75x), it does help you read through the scripts and kind of follow the dialogs, but it can sound weird. Don't expect this to work as it does on your podcast player. I hope the developers of the app improve this soon.
It might be a good idea to do it this way for a few episodes till you get used to it, but then turn it to intermediate (speed) at least so that it sounds more natural. You might as well make it sound natural since these are native speakers.
Is Lingopie for someone who is starting from zero?
This is a tough call.
In spite of the fact that you start to understand a lot more of the dialog and vocabulary after a few episodes, and there is beginner content and beginner-friendly shows, if you are completely new to the language, you may find it challenging.
It is not impossible. I actually know some people who have learned Spanish by watching TV shows, telenovelas, and wrestling events. It's funny but it's true!
But if you're a complete beginner it is going to be a tad harder and maybe require more hours of practice.
One important feature missing in Lingopie is the ability to search for content based on beginner-level Spanish.
How much can you learn?
Only you can determine the limit of your learning experience. How much time are you willing to dedicate? That is the question. Lingopie is a very engaging program. You can easily get sucked into some TV shows or movies, and this is what makes it different from other apps. At the moment I am also listening to an audiobook, watching a grammar show for about 30 minutes, and having fun learning about other languages and cultures with Walking Tours of Spanish-speaking countries.
However, I must point out that it's not easy to identify which 'show' is an audiobook, a podcast, or a TV show, for example. This system of identification could be vastly improved.
Committed students could get really fluent and gain a great deal of understanding and confidence.
Lingopie and Netflix
Lingopie has been my favorite language learning app for a lone time. But as of 2023, it's even better.
Imagine combining the addictive nature of binge-watching Netflix with the gratification of learning a new language. Lingopie has made it a reality with their innovative language learning Chrome extension for Netflix.
They've cleverly enhanced Netflix content with precise instant translations, dual subtitles, customizable speed, new word saving, and practice options. You'll be building your vocabulary straight from your favorite Netflix shows, making language learning more interesting.
I love watching interesting shows to learn a language. It helps me understand the culture. Understanding the culture of a country is key to becoming fluent in the language.
Lingopie Community
This is an interesting section of the application.
Two tabs here. The first tab is the table of positions, a sort of a ranking dashboard where you see top learners and where you stand in that ranking. This won't necessarily add to your learning journey, but it could challenge you to work harder maybe, if you are very competitive, it will definitely motivate you to go up the ladder.
The table of positions also includes your summary, how many hours you've watched, and the files and learning sheets you've completed.
The next one is the forum. They have four very common rules: be respectful and polite to others, participate actively, and refrain from posting offensive posts or photos. Lastly, no spam is allowed.
Various topics are available where learners can interact with each other, share their thoughts and experiences, and participate in discussions about content and other language resources. There are a variety of topics covered on the forum, from games to grammar and orthographic rules to the use of some common words or to topics of interest in your chosen language. Read them, add your comments, and chat with the community.
There was a quiz game on Earth Day in which you had to pick the grammatically correct answer to questions about the planet. It was fun. This was a great way to learn some facts about planet earth and exercise our grammar skills.
Learning Tips
As a visual learner, Lingopie works for me since I read the scripts while binge-watching TV shows, but I also save them on my computer for regular reading. Reading helps me practice my pronunciation, understanding, and retention of new vocabulary.
Use the "loop sentence" feature to repeat phrases so that they end up getting more chances to hear the entire phrase without too much messing about with playback controls.
The Flashcards feature is a great feature for keeping new words fresh or practising your vocabulary retention skills. I recommend making the full use of this free tool.
Kids Section
Lingopie has a Spanish section for kids. It operates similarly, but the Spanish shows for kids are sure to help little ones improve their language skills. Lingopie offers hundreds of "child-friendly" movies, TV series, and cartoons. Every show has both Spanish and English subtitles and the content has an educational focus.
Additionally, since they are interactive, they are fun and engaging. We can't expect young children to sit through a standard classroom-type course even if it's online. But the interactive nature of Lingopie makes it a great app for children, as they will be learning new vocabulary while watching shows and movies.
Lingopie as a Gift
You can purchase a yearly subscription for someone else as a gift. Now that some of us are spending much more time at home or in front of the computer, why not make the best of it and watch some movies and TV shows in that language that you want to practice or learn?
They even have different card options for the e-gift card that the recipient will get in their email. This was cute. I figure it could be a very original and useful gift, something your loved ones might really appreciate.
The Free Trial
I've mentioned the free trial a couple of times already, but here are all the details about it:
It is a 7-day free trial and it gives you unlimited access to everything available in your selected language, just like a regular subscription. To sign up for it, you will be asked to select your preferred type of subscription and form of payment. If you don't cancel before the seventh day, it will charge you automatically and start right away.
Pricing
Two types of subscriptions are available: yearly ($5.60 per month / $67 per year, for a single user) and the family plan ($8.25 per month / $99.00 per year, for up to four accounts for the price of one). Lingopie's Family Plan is great value so consider this before purchasing a single licence. Get the entire family involved.
All plans are paid upfront. In both cases, you can start with the free trial first. Note that there is no free plan, but the trial will get you acquainted with all the features of the software.
You can cancel your subscription from the profile section of your account on the web app. However, note that when signing up via the Lingopie Mobile App, the cancellation must be handled by the actual app from the App Store. The same when you select Paypal as your payment option. You will need to cancel the subscription from your Paypal account.
As part of their extra features, the Lingopie team has special offers for teachers and schools (called the Academic pricing plans). Within the contact us section, this option comes up among other titles under getting started.
There isn't much information on the website. Those interested in the academic pricing need to send an email to the provided email address within Lingopie to get the details of this offer.
Verdict and final thoughts
While this application offers a fun, dynamic, and different way to learn, it still requires work to improve your Spanish. If you use it for pure entertainment, sure, you will absorb some listening skills but you should use it as a language learning app and toolkit. You still need to practice, review your flashcards, and complete your quizzes if you're aiming for fluency in Spanish.
Here are some tips from experts from the language learning world that will help you get the most out of Lingopie:
Find opportunities to get exposed to the language in your everyday life – speaking practice, using it, this is the way to develop your language skills! The more you learn in real life, the more enjoyable it will be to watch TV shows and films in Spanish
Listen and then listen some more. Practice comprehension by watching shows and don't be afraid to repeat them as many times as needed.
Be more open to ambiguity – remember you are learning something new.
Understanding from context – focus on the words you know to get context instead of just going word by word.
Force your brain to remember new words – find your way to practice the new vocabulary.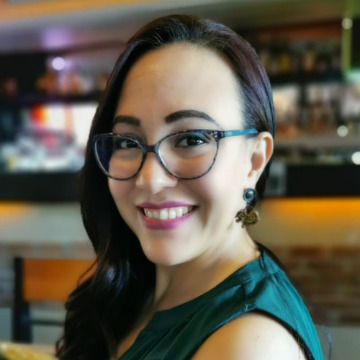 Wanda is a writer from the Dominican Republic. An English teacher from a young age, Wanda also loves traveling, reading, and writing.