italki is the most popular online platform for finding language tutors, professional teachers, and language study partners. It's also a place where teachers are able offer online lessons to language learners anywhere in the world. But is it any good? And is it safe? What does it cost? Why should you bother? If you're a language student and you'd like to improve your Spanish (or pretty much any language in the world), you should consider italki as a convenient way to learn. In this article, we review the online language learning platform from the point of view of a student of Spanish. I been using it for years and I still use it every week. Here's my review.
What is italki?
italki is billed as a language marketplace. It's a service that helps language teachers connect with students. Classes take place online and are private one-to-one classes.
Students pay directly to iTalki and teachers receive payment from the platform, which takes a cut of the hourly rate. The Hong Kong company was founded in 2006 as a language exchange and added the marketplace in 2008. There are over 130 languages, more than 10,000 language professionals, and over 5 million language learners on the platform in 2020.
Searching for teachers, finding conversation partners, booking with, and learning can all take place on the browser or phone app versions of the platform. But lessons are generally carried out via Skype, Google Hangouts, and the new italki Classroom platform. The italki Classroom option is still in beta testing. It's a seamless process and it's easy to find, book, and communicate with people.
Want an easy way to find an online Spanish tutor? Interested in learning Colombian Spanish or the colloquial Spanish of Argentina? Italki's vast range of teachers at affordable prices lets you save the expense of travelling to South America. Learn a language and the accents of any country from your own city. iTalki makes it easy to connect and plan classes.
There are currently over 1700 native Spanish speakers on italki, with around 1300 coming from Latin American countries.
Note: Many people have a 12-24 hour advance notice period for booking lessons. Keep that in mind when you want to schedule a class.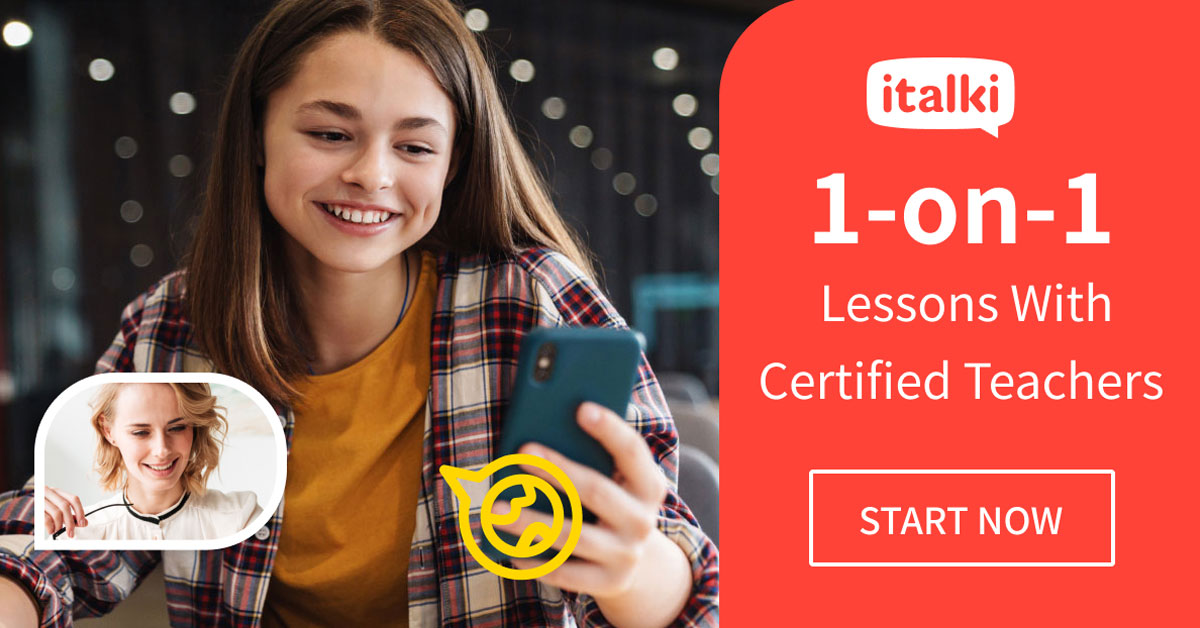 Booking
One thing that impressed me with the platform is how easy it is to book a teacher. I expected a lot of hassle but it was easy and quick.
The timezone displayed is your time zone so no need to worry about converting hours. You can check the calendar and pick a time that suits you. Teachers get 48 hours to respond. They can accept or decline. If they don't respond in time, your italki credits return so you don't lose any money.
Booking a lesson could not be easier. Find a good teacher and click Book Now
On the next screen, select the kind of online lessons you'd like to take. Teachers have their own lesson plans and the prices, type of lesson, and the lessons in total are listed.
Choose the number of lessons. Many tutors will often give single lesson prices and multiple lesson discounts.
Next, schedule your lesson in 15-minute, 30-minute, 45-minute, and full hour lessons . The teacher's timetable with available (and booked out) slots are listed here based on your timezone. You are also able to contact the teacher to ask for a slot outside their current schedule. Green indicates that a time slot is available.
Select the platform where would like the lessons to take place. The options are Skype, italki Classroom, Google Hangouts.
Enter your promo code or coupon if you have one. Select your payment method. Choices are Credit/Debit card, PayPal, Skrill eWallet, and Bank Transfer.
The total cost and estimated cost in your currency will be indicated above the "pay" button.
Click Pay and you'll be notified when the teacher accepts your booking.
And that's it. You'll be learning in no time.
Cost
How much does iTalki cost? Well, there's no fee to use the platform but teachers charge their own fees. is determined by the rate the teacher charges. You can find professional teachers that set prices as low as $4 and also top professional tutors charging hundreds of dollars.
In my opinion, it's still one of the best value ways to learn a language online. Even better than in person as you don't need to travel and if you live in an expensive Western country, the cost of in-person classes can be high.
Many teachers offer a 30-minutes trial lessons which are shorter classes or conversations with a lower rate. If you're looking for a particular kind of teacher, it's worth taking some trial lessons to find the right teacher for you. Everybody has their own way of learning and even the best teachers are not suitable for every language learner. Once you find a teacher that you'd like to take lessons with, save money by buying a package of lessons. A package is just a discounted price on multiple lessons purchased in advance. Many teachers prefer to offer lessons at a discounted rate so that they can manage their calendars better. Language learners benefit by saving even more money which they can use to pay for more lessons.
I've used italki for Spanish mostly and dabbled in learning Thai and a couple of other languages. I'm a reasonably fluent speaker of Spanish and I use the platform as a great way to talk to native speakers. Argentine Spanish is what I learned during my five years in the country and I can find professional teachers around the world for less than $15 per hour. The economy is suffering and the value of the peso has dropped against the dollar dramatically. That's unfortunate for the locals but gives students a lot more spending power.
And this is one of the benefits of italki. You can leverage international exchange rates and location arbitrage. A native Thai teacher in New York might charge $50 per hour or more. That same teacher living in rural Thailand might charge less than $10. The cost of living is much lower and they can afford to offer a lower rate.
Italki Community
Once you've signed up on the platform, you will have access to the italki community. If you are just begging a new language, this is. great place to start learning.
Articles
This is where professional teachers and community tutors post language learning articles that everyone can read for free. However, there's no real way to search for articles and there's no direct way to filter by language. Below the brief excerpt of the article, you will find a tag that indicates the target language. Clicking this will show all of the articles about that language. That's one hack for finding articles you might be interested in. Beyond this, it's fairly limited. If you find a writer that you like, you can click through to their profile and hire them. It's a good way to find a tutor based on their teaching style.
Notebooks
If you would like another member of the community to review and correct your written language, post it here.
Answers
The answer section is basically a Q & A area, like something you'd find on Reddit or Quora. But without the spammy aspects of those websites. Pose a question and people will respond with their thoughts and advice.
Discussions
The discussions section is less about specific language questions or practising. It's more about finding language learning partners, discussing the italki platform, asking for help, and learning about best practices.
Language Hacking
Language hacking is a mission-driven section created by Benny Lewis of Fluent in 3 Months. It's a collection of videos that aim to teach you a language as quickly as possible.
Find Language Partners
This section is filterable based on "language learning", genre, location, location living, and native or non-native speaker. Select the language that a potential partner is learning. English speakers should pick English here. Pick the country based on your target language. If you're learning Argentinian Spanish, the logical selection is Argentina. You can also choose someone living in a different location. If a native Spanish speaker lives in an English speaking country, we might conclude that they have a good command of the English language.
My Language Partners
People you have as "friends" and people that have requested you to be their language buddy are listed here.
Language Challenge
Language challenges are run occasionally with prices for people that hit their goals.
italki teacher reviews
As of August 2020, there are 1948 Spanish teachers on italki. One of the best ways to find a teacher that can help you improve is to take a trial lesson. But before you do that, read through the teacher reviews and make an informed decision
You can also narrow your search in the following ways:
Country – If you want to learn Peruvian Spanish or take lessons from someone in Mexico City or Bogotá, you can select the filter to find many teachers from around the world. The tutor's city appears on their profile once you click through.
Also Speaks – filter by the other languages they speak. French speakers or Chinese speakers, for example, might prefer to learn from a teacher who also speaks their own language.
Price – the rate per hour that people have set for their classes
Availability – set the day of the week and time range (within 4 hours) that suits you best based on your timezone.
Type – choose "professional teachers", "community tutors", or teachers that are both
Category – filter based on the kind of lessons you'd like to take. If you prefer business Spanish, conversation practise, or test preparation drills, select your preferred options. There are 5 categories available.
Native Speaker – select this option to only include native speakers
Instant Booking – search for teachers that allow you to make an instant booking
Learn With Others
This is one of the coolest features of the platform. It's also a feature that lets you get free language practise sessions and even lessons (depending on what you agree on doing with your language learning partner). The partner section of the website is a portal for finding language learning exchanges. Look for a speaker of your target language (let's say French) and arrange for a call. The general rule is that half of the time would be spent speaking in French and the other half in your native language (or whatever dialect you have offered in return). It's a win-win for everyone. This won't work for people short on time. And it also doesn't really work if you want to learn grammar or you're a total beginner. It's great for intermediate speakers who just want to practise but don't want the expense of hiring a teacher. Like a free language tutor but you pay with your own time.
It's one of the easiest to use and best language exchange sites, despite the fact that italki's main focus is on teacher-student classes. The mature and robust platform offers a great user experience – something I haven't found on other language exchange websites.
Looking to compare italki with another platform or simply looking for an alternative, check out Preply in this comparison.
Check out Babbel's new offering in 2021 – Babbel Live – which looks to be a great product.
Another alternative to italki is Lingoda, a language platform with interactive lessons and pre-screened teachers.
italki review score & verdict
italki gives you all the tools you need to language tutoring online. While quality control is an issue with all marketplaces, there's a solid system for finding the best teachers based on feedback and ratings. Teachers must be accepted on to the platform and as teachers and students do not meet in person there's less chance of something bad happening. Thankfully, the vast majority of lessons are a positive experience.
italki's Trustpilot score is 4.8 out of 5 from around 4000 reviews. 85% of italki reviews give the platform 5 stars or excellent rating.
I'll give it an almost 5-star review as I can't find much to complain about.
italki rating (out of 5)
4.9
Hard to fault. Simple to use. Gets results
italki is the next best thing to travelling to another country and meeting a teacher face to face is to practise and take classes online. It works really well and the negative experiences are generally only with poor quality teachers. This is unavoidable on the platform with over 10,000 teachers but the company is working hard to improve this.
There are many cool features that are designed to help you find the best teacher and make the entire experience of booking a seamless one.
I've practised several languages on italki and I've always been very happy with it. It was time for a review. My advice: use italki in conjunction with some textbooks, great flashcard apps and language learning apps for the full language immersion experience.
Frequently Asked Questions
What are some italki alternatives?
Three excellent alternatives to italki are Lingoda, Preply, and Babbel Live.
Is Italki easy to use?
I believe that italki is one of the easiest language platforms to use. italki lets you find a language teacher or practice partner at an affordable rate quickly and safely. The mature platform has a network of thousands of teachers from every country and the modern, fast user interface makes it easy to get started.
Is Italki safe?
italki is safe. The platform is well established and has systems for ejecting weirdos and abusive people. Obviously, italki cannot control what happens over a Skype call but you should be vigilant. Don't give financial or sensitive personal information away to a teacher. Don't offer passwords or anything that could be used against you. Most people are on the platform to make money or learn a language. A few bad eggs might try to cause problems but this happens on every platform on the internet.
The company states that it "reports of unwanted sexual advances very seriously". It's forbidden to use the site for dating and there's a strict code of conduct for both teachers and students. All teachers must follow an application procedure and be approved by the website administrators.
Is italki free?
Essentially, yes. The app is free to use and you can discuss your language, ask questions, and even get practice partners at no cost.
How much does Italki cost?
The cost depends on the teacher you choose and the number of lessons you buy in advance. Everything else on the platform is free to use.