A fun way to practice Spanish is through watching enjoyable series. Netflix is the king of series these days and there are plenty of good shows to choose from. Immerse yourself in a plot that catches your attention, and hear different accents and ways of speaking from Colombian film and TV creators with the streaming giant.
This exposure to new vocabulary, accents, and culture is essential to learning or practising Spanish. The language's different linguistic variants, especially in Latin America, are challenging. But that also makes things interesting. With one of the largest populations of Spanish-speaking people in the world, Colombian Spanish is a popular choice with language learners. Colombia also has a fast-growing movie market. Check out these Netflix movies that will not only entertain you but help you learn more about the particular Spanish of this incredible country. You can also use these movies as talking points for your next Spanish lesson, visit to South America, or date with a Colombian.
Tip 1: watch these shows with Spanish subtitles to not only hear but see the words.
Tip 2: use the Language Learning with Netflix browser extension which opens up a whole world of great tools (multiple subtitles, dictionaries) for learning Spanish with Netflix.
Narcos
Genre: TV crime/action and adventure TV shows.
Spanish difficulty level: Intermediate.
What's it about?
In case you haven't already heard about this super popular series, Narcos is a series specially produced for Netflix about American and Colombian security forces who attempted to end the drug distribution network of the 80s and 90s. It's inspired by actual events.
Many series and documentaries about drug trafficking on the streaming service tell the story from the point of view of the drug trafficker. In this three-season series, the plot is told from the point of view of the authorities. The series begins with the voiceover of Steve Murphy, a DEA agent, about how he and his partner Javier Peña carried out a mission to find and eliminate Pablo Escobar, the leader of the Medellin cartel and the world's most notorious narco (drug lord)
Why you should watch Narcos
This is a joint Spanish and English language series with subtitles. You'll get to hear how Americans express themselves in Spanish with Colombian idioms. But keep in mind that the actor who plays Pablo Escobar is of Brazilian origin (a decision that left Colombians upset with the choice of that actor for the role, since there is more than one local Colombian actor who could have played Pablo Escobar) and he imitates the "paisa" accent as best he can (Paisa refers to people from Medellin). The actress who plays Pablo Escobar's wife is of Mexican origin and does a pretty good paisa accent. Overall, it's a brilliant series and one that you could watch multiple times without becoming bored. It's a great way to hear lots of accents mixed with English to improve your comprehension. The second season is even better than the first, by the way.
If you enjoy the story in the first and second seasons, check out Series 3:Narcos Mexico, and compare the differences between Colombian Spanish and Mexican Spanish.
Siempre Bruja – Always A Witch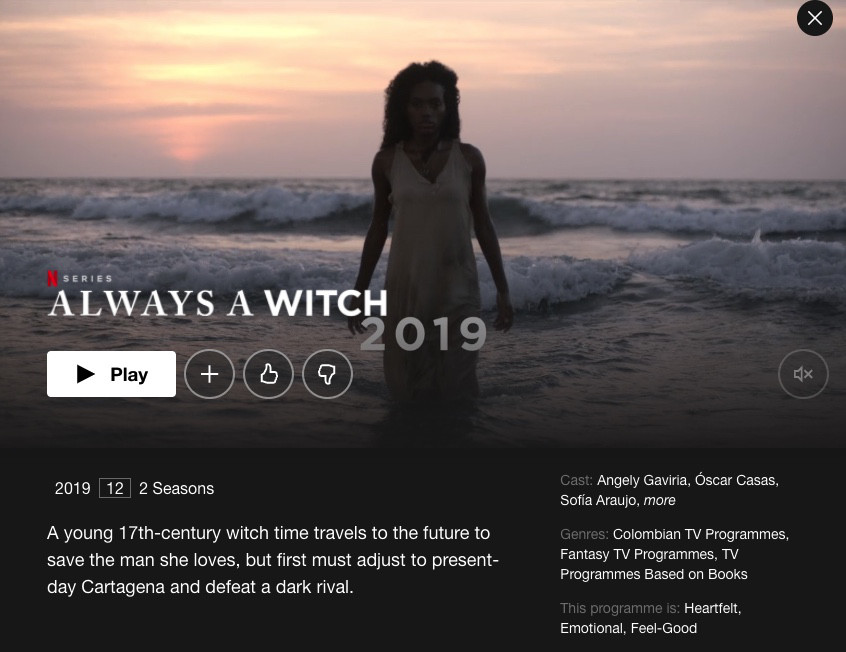 Genre: fantasy series, teen series.
Spanish difficulty level: Advanced.
Series Synopsis:
Siempre Bruja is a series produced by the television network Caracol for Netflix. Set in beautiful Cartagena, introduces us to the city in the seventeenth century when slavery was common and compares it to the complex Cartagena of our time.
Everything is seen through the eyes of Carmen, a young black slave condemned to death at the stake for having a relationship with her boss. The series borrows from the dramas of the famous Colombian writer Gabriel Garcia Marquez. While Carmen is in prison about to receive her sentence, she discovers that she is in fact a witch. She makes a deal with a powerful sorcerer who helps her to save herself by sending her to the present time. The series follows Carmen as she tries to adapt to a world without slavery and social networks, and a world in which she must face an evil man to recover her beloved.
Why stream Siempre Brujas
You'll need to pay full attention to the fast-talking Costeño accent (they call People from the Caribbean coast costeños, meaning coastal). You will hear a faster way of pronouncing certain words, and it might make you work a bit harder to comprehend everything (depending on your level of Spanish). But you're up for the challenge, right? Besides, you will learn to contextualize actual situations that might take place in coastal Colombia, one of the most beautiful parts of the country.
It's a two-season series aimed at a teenage audience. As such, the story lines are not well developed and tend towards the frivolous. Bt this is an entertainment show and the weak storytelling hasn't harmed its popularity. You will hear new idioms of Colombian youth slang, and language based on trending topics.
Betty La Fea – Ugly Betty
Genre: TV drama, telenovelas.
Spanish difficulty level: Easy
Series summary:
It is a Colombian telenovela produced by RCN television that deals with a current hot topic, the struggle for the vindication of women's rights. The series tells the story of Betty, a young woman with a postgraduate degree in finance, whose professional qualities make her an exemplary candidate for a managerial position in a company. But because of her physical attributes, she settles for being a secretary for ECOMODAS, a fictitious company that all Colombians and Latin Americans can now identify.
Adding spice to the story is Betty's typical soap opera crush on her boss, Armando Mendoza. But because of her internal complexes and ugly "label", she settles for being his secretary. This changes after a sudden kiss from her beloved.
Why should you watch Ugly Betty to learn Spanish?
This is a classic telenovela in the Colombian and Latin American style. There's a North American version which you could watch first to prepare for the Spanish language version. Watching this telenovela, you will see how fashion was in the city of Bogota from 1999 to 2001. Thanks to easy and sometimes repetitive dialogues (good for learning) you will sharpen your Spanish listening comprehension. Besides, you will hear a Rolo accent (Rolos are people from Bogotá, in slang). This accent is slower, and somewhat more polite than other accents, and will make it easier to keep up with the Spanish dialogue.
El Robo del Siglo – The Robbery of the Century
Genre: thriller.
Spanish difficulty level: Intermediate.
Synopsis:
Based on a real-life story of one of the largest cash robberies in history, the Netflix series tells us the true story of the heist of 24 billion pesos from the Banco de la República in Valledupar in 1994 (known as the great heist in some places).
With perfectly paced action that keeps you glued to each episode, the series tells the story of how the idea of the robbery arises, how the robbers met, and the planning of the heist.
Overall, a very well-executed series that everyone will enjoy.
Why watch it?
Watching these episodes will help you understand the two distinct accents of Colombia, "Costeño" and "Rolo". You will gain some familiarity with the typical Colombian expressions, and you'll laugh at the comical situations that occur when people from these two regions come together.
Chipatos ¡Qué chimba de navidad! – Stingy. what a great christmas!
Genre: teen movies, comedies, dramas.
Spanish Difficulty Level: Easy.
Series summary:
This comedy Colombian movie follows the plot of an accountant fond of magic games who accidentally gets involved with drug traffickers. Everything happens during one of the Colombian December traditions called Día de las velitas (Day of the Candles). To the backdrop of these festivities, we meet very special characters that exemplify typical aspects of Colombian society.
The title for this family film in English-speaking markets is "The Unremarkable Juanquini", which is not a direct translation in any sense. However, it is a bit more catchy than "Stingy. what a great Christmas!"
Why you should watch it:
It uses useful and modern Colombian slang, with easy and sociable dialogue in the rolo accent. If you're planning on a trip to Bogotá, getting as much exposure to this accent as possible is a good idea. You will also get to know one of the most beautiful traditions of the country, the day of the candles.
Distrito Salvaje – Wild District
Genre: tv crime drama, political series, tv thrillers.
Spanish Difficulty Level: Intermediate.
The details:
Wild District is the first series original production by Netflix in Colombia. It tells us the story of Jhon Jeiver who escapes from his life in the Amazon as a member of a guerrilla group after the signing of the peace process with the government (this agreement was a step towards ending the wars in Colombia and is based on real life). In the course of his reincorporation into society Jhon arrives in Bogota looking to reconnect with his mother and his son. But the plot takes a turn when the Colombian court and police ask him to uncover a network of crime and corruption. Jhon struggles to protect his family from his past and faces the moral dilemma of choosing which side of the law he wants to be associated with.
Why watch it?
One of the best ways to learn to listen to and interpret a language is to connect with the emotions of the speaker, and this series is full of exciting moments that will draw you into its story while you learn new vocabulary.