Language learners do not always benefit from traditional classroom settings. You might be better off learning Spanish outside of a classroom. A number of reasons may motivate you to self-study Spanish: it can be cheaper, regular classes are time-consuming, and self-study can be more effective. The question is, how can you learn Spanish on your own, and how should you go about it?
The key is efficient study techniques. And there are plenty of ways to improve the effectiveness of your Spanish self-study, each with its own pros and cons. For students who don't want to study in a traditional classroom or move to a Spanish-speaking country, these are the best options (according to our team of language learners and teachers).
1. Get A Spanish Language Partner
One of the greatest thrills of learning a new language is when you can communicate with native speakers. But it's also one of the hardest things to do. This is one of the things that language learners struggle with the most is speaking the language. Even if you know a lot of Spanish vocab and grammar, if all that knowledge remains passive, you won't be able to use the language to communicate with real people.
That's why many experts recommend that you start speaking Spanish immediately, as soon as you know the tiniest bit of the language. But you'll need someone to speak the language with to do that. If you live in an area with Spanish speakers, befriend one (or several) and start speaking Spanish with them. Find people through language exchange Meetups in your area.
But suppose you don't have Spanish speakers in the immediate vicinity. In that case, you can turn to the excellent connectivity offered by the internet and use services such as Conversation Exchange or MyLanguageExchange to find someone you can practice your Spanish with (in exchange for practicing English with them).
Conversational skills are one of the most important foundations of fluency. And there's nothing better than a regular language partner or language exchange to help hone those conversational skills.
The community tab on italki used to be a great place to find language partners. This section is no longer available but you can still find a language partner on the platform, but the process isn't quite as obvious. According to italki "we've removed the Language Partners feature in favor of a more flexible and interactive Community but you can still ask someone to be your language partner. As long as you follow each other, you'll be able to message and chat as normal."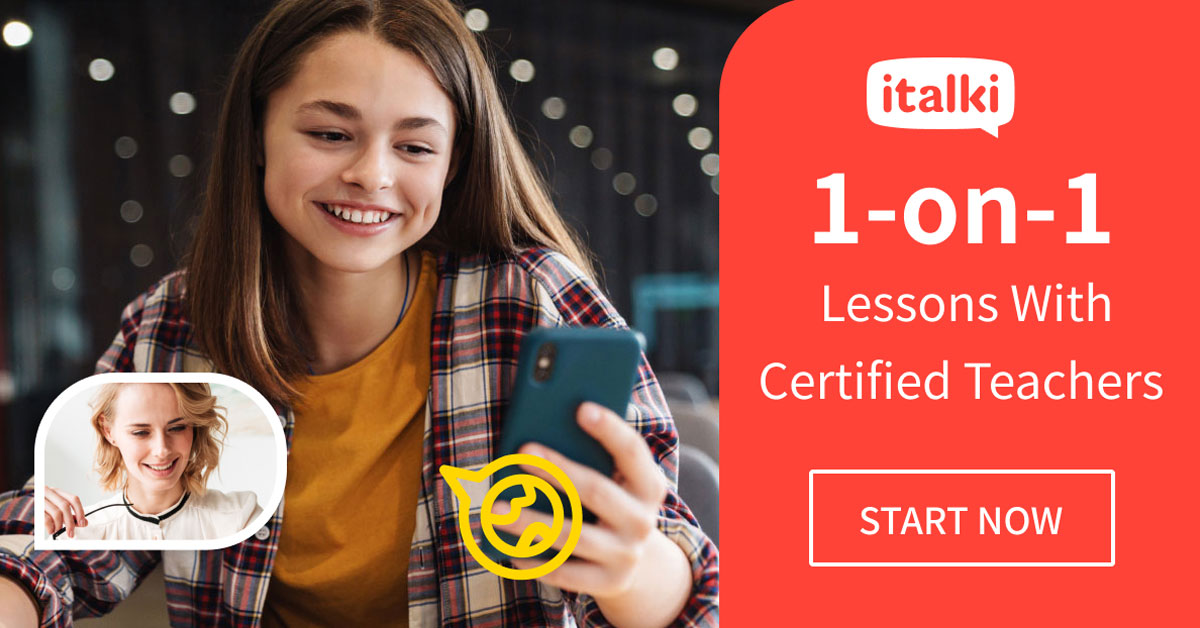 You'll be practicing your Spanish from the get-go, which helps you build listening and speaking skills and increase your confidence. You also learn the correct native pronunciation, which is key to having Spanish native speakers understand you well.
The benefits include the low cost (in most cases), the real-time practice of speaking and listening skills, and instant feedback. The quality of your pronunciation improves as you speak directly with a language partner.
On the other hand, starting a conversation requires courage so this isn't always the best option for more introverted learners. And finding someone you click with may take a while. Finding the right language partner takes time, just as it does to find a good friend.
2. Get A Private Spanish Tutor
Having a tutor is an excellent alternative to the traditional classroom setting of one teacher to many students. Tutors can help you quickly improve your Spanish by focusing on weak areas and giving you one-on-one coaching. You may struggle to find a tutor near you, but you can find one through the net using services such as italki, Lingoda, and Spanish via Skype.
Okay, I'll admit that this is not exactly "self study", but it beats classroom learning where the focus is not on your specific needs. Even with a private tutor, most of the time, you will continue to study alone (thinking, doing homework, practicing) and the tutor will focus on your requirements. You are in full control and can dictate what to work on too. In this way, I consider it to be a form of self-study learning.
Be sure to search on these platforms for people who are from the Latin American countries you are interested in learning Latin American Spanish rather than European Spanish. Some tutors choose to live overseas but still teach their native language with their specific accent so don't narrow down the search too much.
3. Podcasts, audiobooks, and recorded audio
Listening to recorded Spanish audio is a great way to practice your listening skills without the pressure of formulating a response and gets you used to the sounds of the language. Begin with an audiobook you are already familiar with, or listen to the news, News in Slow Spanish is a podcast that will help you learn the language more quickly. Then start listening to other language learning podcasts designed for beginners or intermediate speakers.
You practice your listening skills, especially the all-important task of deciding where the boundaries between words are. This is one of the least expensive ways of learning Spanish on your own. It's also a low-pressure way of absorbing vocabulary and familiarizing yourself with accents (important when learning different Latin American Spanish accents).
But keep in mind that it's not the fastest way to learn a language and some people are not able to absorb much purely by listening. So the benefits of this method will largely depend on your preferences and learning style.
4. Stream Spanish-language radio and music
Listening to Spanish language radio (at normal speaking speed) and music in the language gives you listening practice deciphering rapid-fire Spanish, a language spoken much faster than English. It also immerses you in the culture of the language, keeping you informed on what is happening in Spanish-speaking countries and the music they are grooving to.
Try listening to these radio stations, or get a taste for salsa, cumbia, bachata, or reggaeton.
The downsides of listening to talk radio and music radio are that there is no feedback loop, you won't be actively talking, and it can be a slower path to learning. The upside is that it's a free learning resource and it can be entertaining and enjoyable.
5. Watch Entertaining Content In Spanish
If you want more immersion in Spanish-speaking culture, watching content in the language is the way to go. We don't recommend you start with a long movie – there's a lot of content in Spanish on YouTube, and it will give you practice in listening to the language with some visual aid.
Suppose you want to watch telenovelas, series, and movies in Spanish. In that case, we recommend using Lingopie or Language Reactor, which give you tools to interact with the content – Spanish language subtitles for reading practice (and to aid your listening comprehension), the ability to make flashcards, and grammar practice from the content.
With these semi-interactive tools, you will be able to practice listening, reading, and grammar, which will help you build your own sentences far more effectively than absorbing the language passively. When you combine these tools with the practice of spoken Spanish, you will see your fluency grow!
Start with shows by Mexican or Colombian creators and channels, since their Spanish is often cited as being the clearest and might also be the most familiar to intermediate learners. Of course, there's no reason why you can't just jump in and start watching shows in Argentine Spanish or get down with street-wise phrases from the Dominican Republic. It depends on your level and where you plan to actually use your Spanish skills.
If you're watching on YouTube or Netflix (as well as many other streaming services) you can also add Spanish subtitles to whatever you're watching. You could even watch English-language movies with Spanish subtitles. Or watch Spanish movies with English subtitles. It all depends on your level and what you feel comfortable with. Remember that doing something is better than nothing. Just try to avoid overwhelm and try to keep things enjoyable.
6. Stay on Course
If you are studying Spanish on your own, it can be challenging to maintain a balance between learning vocabulary and grammar and the skills of reading, writing, speaking, comprehension, and recall. In this case, a structured course becomes valuable, guiding your Spanish learning endeavors. This type of self-study gives structure to your learning and provides a holistic learning experience that supports all elements of Spanish fluency.
Courses vary from the comprehensive (Rocket Spanish and Ouino) to spaced repetition-based vocabulary builders such as Rosetta Stone Spanish, building blocks-focused Mango Languages, and courses designed for the novice. Other suitable courses include the venerable Pimsleur, podcast-based SpanishPod101, and Fluencia.
There are differences in the methodology of these courses, with some, such as Fluenz, instructing in English. In contrast, Rosetta Stone provides little to no English context, immersing you in visuals and Spanish tags from the beginning. Choosing the right course will depend on your preferred learning style.
Many popular courses focus on Latin American Spanish or offer it alongside European Spanish.
Note that while these courses can be expensive, they are one of the most comprehensive methods for learning, and can definitely supplement the other methods.
7. Level Up with Language Apps
Language apps are hot these days. Anyone with a phone (pretty much everyone) can easily download one of the many language learning apps and get started in minutes. However, quantity does not necessarily equate to quality, and I know plenty of people who install every app for their target language but rarely use any of them. In many cases, the ease of access to these tools often causes people to forget they have them or postpone studying for later. Don't be one of them!
From Babbel, LingQ, Anki, to the famous (or notorious) Duolingo, there is a seemingly endless supply of language learning apps.
Duolingo deserves a special mention for being the first app to implement the gamification of learning. A gamified approach to goal setting has been shown to help people achieve their goals. Gamification of learning makes it fun, enhancing your chances of maintaining this method of practice. Note that Duolingo mixes European Spanish and the Spanish of other countries. At least, it's not clear which accents and dialects the app is presenting. 
While apps like these can help you pick up vocabulary, they will not teach you usable Spanish on their own, and you should see them as a supplement to other methods. The nearest thing to a complete course in this category of Spanish-learning tools is Mondly, which will give you a more comprehensive and immersive grounding in the language.
8. Try Translation Tools
Over the past few decades, machine translation has improved significantly and now performs reasonably well.
Google Translate will give you a rough-and-ready understanding of a passage in Spanish. This method can help you gain an understanding of a Spanish text where your own efforts fail you. However, translation is generally considered an inefficient way of understanding and learning a new language. Moreover, machine translation is subject to errors that a human translator would not make, such as levels of formality.
The browser tool ReadLang, allows you to highlight individual words with their translation and generate flashcards. I'm a big fan of ReadLang for adding a little extra language skill fun to my reading.
Translation tools can give you an understanding of difficult passages.
However, there are some downsides. A problem you will encounter trying to learn Spanish this way is that many Spanish "words" will translate the same way into English, a consequence of the inflected nature of Spanish. You will, therefore, fail to gain an understanding of the way Spanish grammar works by using these tools.
Like most of the methods on this list, there isn't one true "best" way to learn, just like in real life. Use these tools with each other. Supplement one main method with various others. Find out what works for you. Learning a language with translation software isn't the most efficient way to progress but it's a great supplement to other methods.
9. Choose a good Spanish textbook
The traditional method of self-studying Spanish is to get a good textbook and work through it.
One of the best things about learning Spanish from a textbook is that it can be a very affordable way to get started. You should be able to source good Spanish textbooks at your local library or bookstore. Additionally, using a textbook can help you to better understand Spanish grammar and sentence structure.
However, unless you get a multimedia package with a book and mp3 audio recordings, you won't be able to practice listening.
Another benefit of using a textbook to self-study is that you can go at your own pace. You can take as much time as you need to review each lesson and make sure that you understand the concepts before moving on. This helps avoid the feeling of overwhelm that some courses and apps can create.
Additionally, most textbooks will also come with a glossary of key terms, which can be invaluable when you're trying to remember new vocabulary.
You may be reluctant to try a textbook as it is reminiscent of boring classroom lessons. While we do not recommend you use this method on its own, it can be powerful in combination with working with a tutor and having plenty of practice speaking with them. Get practice in listening comprehension from Spanish audiobooks, music, radio, and visual content.
A textbook can be the best way to understand the complex grammatical patterns that underpin Spanish, such as all those verb conjugations. A well-designed text will gradually walk you through the concepts from simple to complex.
However, a disadvantage of this learning method is that many textbooks keep you learning in English, making your brain go through translation to produce a Spanish sentence rather than thinking in Spanish. That's why it's best to keep this as an adjunct to other methods.
10. Read everyday Spanish language material
If you're a reader, learning Spanish can be a natural and enjoyable process by reading everyday Spanish reading materials. Start with texts such as easy news reports or children's books that use relatively simple grammar and limited Spanish vocabulary. You may be surprised how much you can pick up just by reading for pleasure in Spanish. Plus, it's a great way to immerse yourself in the language and culture.
Progress to more difficult short stories, novels (advanced level), and non-fiction pieces about subjects you are interested in (everything from sports to gardening).
With time, you will internalize familiar phrases and the grammar used to express them in particular ways. In this way, you gain confidence in your own grammar.
However, you will only be getting practice in reading comprehension, so you will need to use this as a supplement to other methods. What's more, buying reading material can get expensive.
11. Immerse Yourself In Spanish Where You Are
My last suggestion is to immerse yourself in Spanish where you find yourself and start thinking in Spanish. To immerse yourself in Spanish-speaking culture, visit Latin restaurants and speak Spanish with the wait staff, attend Latin dance clubs, and cook meals from Spanish recipe books.
You can also label items in your home in Spanish, put your game console or computer's interface in Spanish, and keep a journal or blog.
Follow Spanish speakers on social media and use Spanish to comment on their posts.
For those more daring, we suggest changing the language on your phone to Spanish or even setting your AI assistant (Siri, Alexa, or Google) to Spanish.
These methods give you practice in using the language in one way or another, making it a part of your daily routine.