Have you ever considered how different Spanish is spoken in different countries? I never imagined the contrast could be so great. The differences between Latin American Spanish dialects are often much greater than the differences between, for example, US and UK English.
My sister's wedding was this weekend, and I met her husband for the first time, a man from Puerto Rico. I thought, cool, we'll get to speak Spanish together since Spanish is the official language for both countries. I'm from the Dominican Republic. Ah! But I didn't realize that Puerto Ricans (or Boricuas, as they call themselves) speak so differently from Dominicans.
In a conversation between Dominicans and Puerto Ricans, the speed and tone, as well as some of the slang phrases, can present a challenge. I was able to experience first-hand the Puerto Rican Spanish accent and dialect and got a lesson in how each country tends to vary the language by adding its own rhythm and phrases.
We share many common words, including those from our Taino heritage as our ancestors came from the same region. Some of these shared words are pretty common in Caribbean countries, such as barbacoa (BBQ), canoa (Canoe), Tabaco… and much more. Both countries have been greatly influenced by other cultures like those of the country of Spain and the African continent.
And this is not the only similarity we have. Puerto Rican Spanish and Dominican Spanish both use a lot of contractions, slang, and regionalisms, and both add a touch of melody to their language.
Replacing letters
We also replace or omit letters when speaking informally. Let me give you some examples:
Both dialects tend to omit or replace the letter "R".
Most Puerto Ricans pronounce the "R" as "L", maybe because of American English influence, and they actually struggle to pronounce the "R". Check this out:
For the word buscar (to look for), Puerto Ricans say bu(s)cal.
For puerta (door), they say puelta.
But they only change the "R" for and "L" when is a soft R, like when they say "Puelto Rico", they'll change it in Puerto only. In addition, when you pronounce syllables with a double r, they kind of sound like "gh", as in the word carro (car in English), which sounds like "cagho".
Dominicans on the east side of the island around Santo Domingo also replace the "R". It is mostly replaced by "L", while on the northern side of the islands it is replaced by "I". So using the same words it would be like this:
East of the island: bu(s)cal, puelta – same as Puerto Rico.
North side of Dominican Republic: bu(s)cai, pueita.
Omitting Letters
Also, both the Puerto Rican and Dominican accents tend to omit the "S" in most words. We all say either:
"Bucal" or "Bucai".
And here is another one: to say "more water" in Spanish, we would say "ma'agua", rather than "más agua".
Puerto Ricans sometimes also replace the "R" with "J" at the beginning of words. An example is the color red in Spanish, rojo, which sounds like jojo in the Puerto Rican accent.
Another example is the word rico, meaning "good" or "rich". This word sometimes sounds like jico.
Important point: the letter "D" is almost nonexistent in both countries.
In both islands, people tend to remove the letter d, at the end of most words but also in between, particularly when the d is in the last syllable. For example, we don't say cerrado (closed), we say cerra'o. We don't say vestido (dressed), we say ve(s)ti'o. In this second case, we would also usually omit the letter s, so the word is pronounced veti'o.
And then at the end of words like felicidad, we say felicida'.
Verdad becomes velda' (East Dominican Republic and Puerto Rico) and veida' (North Dominican Republic).
Emphasizing pronouns
Spanish speakers from both countries often use the subject pronoun in questions where typically it is implied, like this:
¿Qué tú quiere(s)? Intead of just saying ¿Qué quieres? (What do you want?)
¿Qué tú hace(s)? instead of ¿Qué haces? (What are you doing?)
Chopping off word endings
Word endings are regularly chopped off to shorten words. Note that this is a very colloquial way of speaking, not the way you would in a meeting, but rather among friends and family members. Here are some examples:
para – pa' (for).
nada – na' (nothing).
cerrada – cerra' (closed).
Rhythm and the accent
The major difference, hands down, is that Puerto Ricans speak as if they were singing a reggaeton at all times, dragging some vowels and emphasizing the last syllable differently. They typically speak at a reasonable pace. However, the stress pattern in a sentence makes words blend to sound as if they were rapping. For example, in 'regular' Spanish we might say:
¿Qué estás haciendo? (What are you doing?)
But a Puerto Rican would say it this way:
Queee tu ta'cieendo? (You need to read it as if you were singing a Daddy Yankee song in your head to get the difference).
Dominicans, on the other hand, speak rapidly and shorten most words. That is sometimes a challenge for Spanish language speakers.
To say something like "¿Cómo estás?" (How are you) a Dominican would say "¿Cómo tú ta'?".
Another example is "Está todo bien." (Everything is good). Dominicans would say "Ta' to".
Cutting down words is just one way Dominicans speak faster. Here are some more examples:
Regular Spanish:
A: ¿Para dónde vas?
B: Voy para Santo Domingo
Dominican Spanish:
A: ¿Pa'onde va'?
B: Vuá Santo Domingo.
Elongation of the last syllable
Dominicans tend to exaggerate. We're a bit dramatic sometimes, so another distinctive characteristic of our colloquial speaking is the elongation of the last syllable on a regular phrase or sentence.
Native Lingo
The other most significant difference between the Spanish of both countries is the local lingo. Each country has its dictionary of native words. Richly influenced by other cultures, Anglicism, and local culture, these influences make conversations unique.
Let me take you through some differences:
| | Puerto Rico Spanish | Dominican Republic Spanish |
| --- | --- | --- |
| What's up? | ¿Qué la que hay? | ¿Qué lo qué? |
| Broke | Pela'o | En olla |
| Man / Bro / Friend | Papi | Manín |
| Money | Chavo | Cualto/Cuaito |
| Well-dressed or nice-looking | Acicala'o | Arregla'o |
| Mess | Revulú | Revú |
| Beers | Birras | Frías |
| Hustle | Bregar | Josiar |
| Gossip | Bochinche | Chisme |
| Dirty Dancing or party | Perreo | Teteo |
| Ignore | Pichear (Picheal) | Saca(r) lo' pie |
| Trashy | Cafre | Chopa |
| Angry | Enfogona'o | Quilla'o |
| On fire/Hot (Referring to something that is going good) | A fuego | Encendí'o |
A conversation between speakers
Now let's look at a conversation between Puerto Ricans and the changes in the same dialog when spoken by Dominicans:
| | Puerto Rico Spanish | Dominican Republic Spanish |
| --- | --- | --- |
| Hey man, what's up | A: ¿Dímelo papi, qué es la que hay? | A: ¿Dime manín, qué lo qué? |
| All good man, a little worried | B: Sí, papi. Aquí un poquito rocha'o | B: Aquí tranki, medio preocupa'o. |
| Why, what's going on, are you ok? | A: ¿Pero pol qué papi, qué pasó, ta's bien? | A: ¿Cómo así manín, qué pasó, qué lo qué contigo? |
| Yes man, but my car broke down | B: Chico, sí, pero pues se me rompió el ca(gh)o. | B: Si mano, pero se me jodió el carro. |
| Well bro, if you need anything just let me know | A: Na' papi, tú sabes, lo que necesite(s) me deja(s) sabel. | A: Na' manin, tú me avisa que yo te meto mano. |
| What about you, what are you up to? | B: ¿Y tú qué inventa'? | B: ¿Y tú en qué ta'? |
| Well I got invited to a party, do you want to go? | A: Pue(s) mira mano me invitaron pa' un party. ¿Nos vamo(s) pa'lla? | A: Aquí chilling, me invitaron pa' un teteo, ¿ vamo pa'lla? |
| Ok, if you pick me up and give me a ride back | B: Bueno, si tú me pasa(s) bucal y me trae(s) claro | B: Claro manín, si tú me da' una bola y me tra'e pa'tra. |
At the end of the day, most Hispanic countries in the Americas and the Caribbean have their own accents and dialects, so even though we all speak the same official language, we have very distinctive versions of the Spanish "language". The best way to get acquainted with a specific accent is to interact with people from that given country so that you can learn their slang and get used to their speed. You can also listen to podcasts, take online lessons with native tutors, learn to enjoy telenovelas, or watch videos on YouTube.
You can find tons of videos on YouTube for both the Puerto Rican accent and the one from the Dominican Republic. Jump in there, and you'll not only learn some Spanish but also laugh because some of those videos are pretty funny.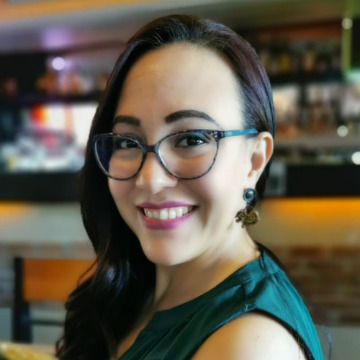 Wanda is a writer from the Dominican Republic. An English teacher from a young age, Wanda also loves traveling, reading, and writing.